Three people were killed and at least five others were injured after a gunman opened fire at Michigan State University on Monday night before turning the gun on himself, officials said.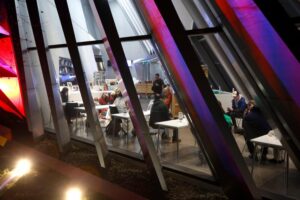 The lone suspect, a 43-year-old not affiliated with the university, shot up two separate buildings on campus and terrified students for roughly four hours while he remained at large, police said.
The five wounded victims suffered "life-threatening" injuries and were rushed to a local hospital in critical condition, MSU Police and Public Safety Interim Deputy Chief Chris Rozman said during a 11 p.m. press conference.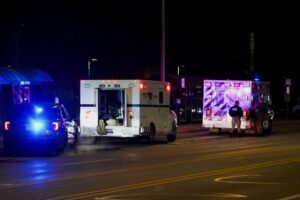 The gunman later shot and killed himself at a location off campus in the city of Lansing as he was confronted by law enforcement, the deputy chief said after midnight.
He said the shooting began inside Berkey Hall, an academic building on the East Lansing campus, around 8:18 p.m.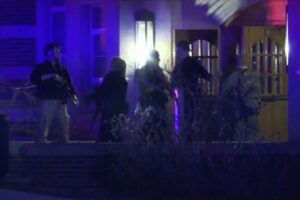 Officers received multiple 911 calls of an active shooter inside the building and responded within minutes and arrived on the scene to find several victims — including two dead.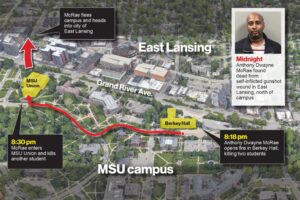 The gunman then moved to the MSU Union building — which houses a student dining hall — five doors down and continued to fire rounds at students, Rozman said.
Emergency responders found victims — including the third fatal person who died — in that building as well.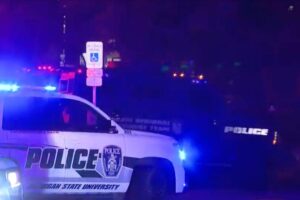 Videos posted online showed troves of terrified students running across the campus as officers tried to take command of the chaotic scene.
Police released an image of the suspect, who they described as "a black male, shorter in statue, wearing red shoes, a jean jacket and ball cap," following the 11 p.m. press conference. Officials could not immediately confirm what type of weapon he used.
Following the first report of shots fired, students and staff at the school were ordered to "secure-in-place," authorities said.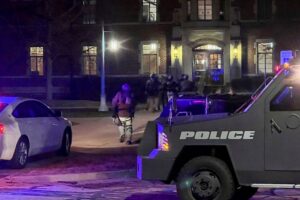 There have been shots fired near Berkey Hall on the East Lansing campus," MSU police wrote on Twitter
Please secure-in-place immediately. Police are active on scene," the post continued.
University police on Monday night sent out an alert warning the campus community to "Run, Hide, Fight."
"Run means evacuate away from danger if you can do so safely, Hide means to secure-in-place, and Fight means protect yourself if no other option," the message said.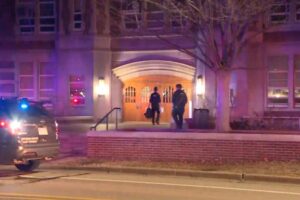 Rozman said there was no longer a threat to campus during a 12:30 a.m. update after confirming the lone gunman had died.
"We are relieved to no longer have an active threat on campus, while we realize that there is so much healing that will need to take place after this," Rozman said.
A MSU sophomore told the Detroit News she was inside her dorm on campus when she heard people barricading doors and shouting "Go" so she fled the residence hall with other students.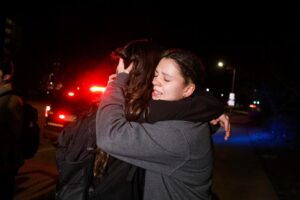 A police officer instructed them to go to a nearby bus stop, according to the outlet.
"We don't feel safe anywhere," the student, Alexis Dinkins, told the paper.
MSU cancelled all campus activities for the next 48 hours.
The FBI is on scene assisting local law enforcement with the investigation.