The 911 dispatch call made after Lindsay Clancy allegedly strangled her three young children revealed that she reportedly cut herself before she jumped from the top floor of her Massachusetts home the night of the attempted murder-suicide.
A chilling recording of the calls between emergency dispatchers sheds light on the extent of Clancy's injuries, as the 32-year-old labor and delivery nurse remains in a hospital bed, waiting to be arraigned on murder charges.
"A female party jumped off the top floor of the house," one of the emergency personnel said in the Jan. 24 recording. "Impact injury, neck lacerations — she's conscious at this time… It was over a 20-foot fall."
The dispatchers said responders didn't immediately know the location of the knife "or whatever she used to slit" herself and referred to the emergency call as a "suicidal situation."
The first responders then requested additional ambulances as they mentioned "two pediatrics" in cardiac arrest. Later, a person informed the dispatcher that there are four patients total.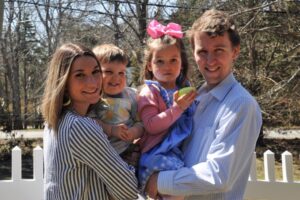 Clancy, who was on leave from her job at Massachusetts General Hospital, is accused of killing her 5-year-old daughter Cora, 3-year-old son Dawson and 7-month-old son Callan — who died at the hospital three days later.
Clancy's husband, Patrick, found his wife laying outside their Duxbury home after he returned from picking up dinner for the family on Jan. 24. The recording doesn't include his 911 call.
The mom has been hospitalized since she jumped and has had no contact with anyone other than her medical staff and attorneys — not even her husband or parents.
The mother reportedly cut herself before she jumped from the top floor of her home.Boston Globe via Getty Images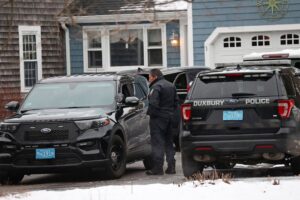 She is reportedly bedridden, but is able to communicate.
"She is not paralyzed. She can move her legs. She can move her arms. She has been writing and being able to verbally communicate," an attorney for the DA's office said.
Clancy was overmedicated on 12 prescription drugs that were "turning her into a zombie" when she allegedly killed her kids and tried to take her own life, her attorney Kevin Reddington said.
The nurse was reportedly suffering from postpartum depression and was open about her struggles with anxiety as a mom on social media.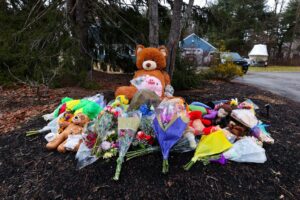 Clancy will be arraigned on two counts of murder and three counts each of strangulation, assault and battery with a dangerous weapon via Zoom in Plymouth District Court Tuesday.
The charges are expected to be upgraded to account for baby Callan's later death.