Federal officers descended on the gunman accused of opening fire on a rookie NYPD officer following a dispute over a city bus seat, sources told The Post.
The US Marshals Fugitive Task Force arrested the alleged shooter around 8 p.m. Thursday at a home in the Wakefield neighborhood of the Bronx.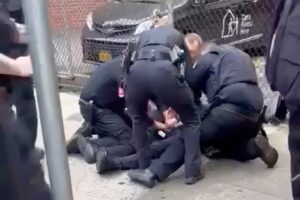 Officers recovered a gun, but it's not clear whether it was the same weapon used to fire a single shot at rookie Officer Brett Boller in Queens Wednesday, according to law enforcement sources.
The man — whose identity is being withheld by The Post until formal charges are brought — has no arrest history.
"Detectives said they wouldn't give up until they apprehended the person who shot our brave brother in blue and risked the lives of fellow New Yorkers," the Detectives' Endowment Association tweeted Thursday.
"There's no hiding from the Regional Fugitive Task Force — anywhere."
Police said the suspect shot Boller, 22, in an attempt to evade arrest after brandishing his gun at another bus passenger during a fight over a seat on an MTA bus.
The shooter had pushed past the two officers after the bus driver flagged them down, but Boller — the son of an NYPD inspector in the Brooklyn North precinct with only three months on the job — chased his shooter down the street.
Terrifying video shows the shooter wrestling with Boller on a Queens street before discharging the weapon, striking the officer in the right hip.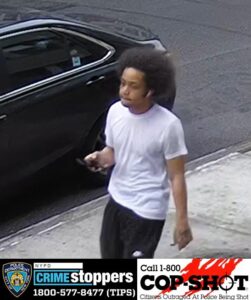 While quickly backing away, the gunman points the firearm at the cop as he writhes on the ground. He took off after Boller's partner — who also has less than a year on the job — fired two return shots.
The shooter's ditched jacket, mask and sweatshirt were later found at a nearby parking garage.
Responding officers swarmed the injured rookie and tied a tourniquet around his right leg before hurriedly lifting him into the back of an NYPD van.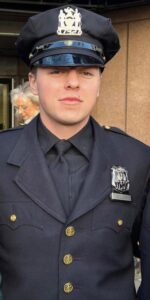 Boller was recovering in Jamaica Hospital on Thursday after a successful surgery.
Cops were offering a combined $20,000 reward for information about the shooter, whom they considered armed and dangerous.
Mayor Eric Adams blamed the incident on the rampant use of guns on city streets.
Boller was chasing the suspect after he brandished a gun at an MTA bus passenger.
The proliferation of guns and too many people are willing to use it repeatedly," Adams said.
"And that is why the extreme recidivists must be identified and removed from our streets. When you could display a weapon over a dispute on the bus, that says a lot that is why we are continuing to remove these guns off our streets."