Peter the Just/Cruel
In the 14th century, Peter (Pedro) I of Portugal was married to Constanza Manuel of Castile at just 16 years old in a political move arranged by his father, King Alfonso XI, but he fell in love with her cousin Inês de Castro. Their love affair went public after Constanza died and Peter started a family with Inês. But his father still disapproved and had her murdered and buried while Peter was on a hunting trip.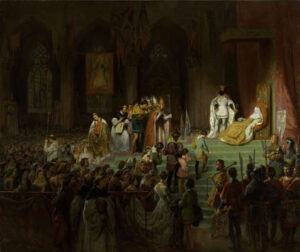 Peter tried to declare war against his father but was defeated. However, two years later his father died and he ascended the throne. One of the first things he did was order the public execution of Inês' killers by ripping their hearts out. He then revealed he'd married Inês and demanded she be recognized as Queen of Portugal. Legend has it that her body was exhumed, the corpse was dressed and crowned, and the king made the courtiers kiss her dead hand.