A mother who stabbed, strangled and suffocated her three children before burning their bodies in a house fire will spend at least 25 years behind bars.
Margaret Dale Hawke, 36, pleaded guilty to three counts of murder after killing her 10-year-old daughter and two sons, aged seven and four months, in the family's Port Hedland home on July 19, 2022.
Sentencing her on Friday, Justice Michael Lundberg said it was a sad and distressing case and Hawke had failed her fundamental duty as a parent to protect her children.
"It is almost impossible to fathom how you reached a point where you knowingly … killed your three only children in your own home at such young ages," he told her at the Supreme Court in Perth.
"It is impossible for any person to understand what you were thinking at the time and indeed, it appears you aren't entirely clear why you came to engage in such serious and brutal attacks."
The court heard Hawke told her children "I love you, please forgive me" before strangling her daughter with an electrical cord and stabbing her eight times in her chest and heart with a knife.
"Babies I don't want us to hurt anymore," she said.
She also strangled and stabbed her seven-year-old son. He was found with three stab wounds to his chest and marks on his neck.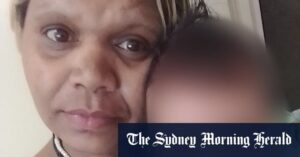 None of the children were found with soot in their respiratory systems indicating they died before the fire was lit.
An arson investigation found the fire was deliberately lit with two ignition points in the house. It will be demolished and a communal garden will be built on the plot.
The court heard Hawke grew up in a violent home amid alcohol abuse and she had been abused in a series of relationships as an adult.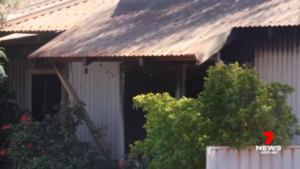 In the lead-up to July 19, she had been using a cocktail of drugs, including methamphetamine, and her state of mind was likely impaired as a result.
She had repeatedly asked for help from community groups and medical staff, saying she was struggling to care for her children, but few options were available.
Outside court, family members unhappy with the sentence said little to media.
"Innocent kids are dead … should have got life without parole," they said as they left.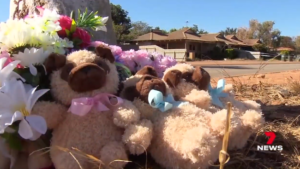 Hawke was sentenced to life in prison with a minimum non-parole period of 25 years for each of the three murders and two years and eight months' jail for the criminal damage by fire, to be served concurrently. The murder house has been demolished to make way for a community garden
1800 RESPECT (1800 737 732)
Australian Associated Press