Connor Sturgeon, 25, stormed Old National Bank in Louisville shortly after 8.30am Monday – around half an hour before the branch opened to the public 

Four victims included a friend of the governor Thomas Elliott, 63, and three other bank employees, Joshua Barrick, 40, Juliana Farmer, 45, and James Tutt, 64 

Sturgeon carried out the attack with an AR-15-style assault rifle after earlier making a series of Instagram post. One said: 'Let's see if they hear this'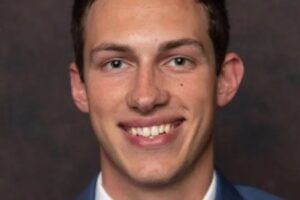 The Louisville gunman who shot dead four bank employees live-streamed the massacre and left a note to his parents saying he was going to carry out the attack following his firing, it has been revealed.
Connor Sturgeon, 25, stormed Old National Bank shortly after 8.30am Monday – around half an hour before the downtown branch opened to the public.
The victims included a close friend of the governor Thomas Elliott, 63, and three other bank employees, Joshua Barrick, 40, Juliana Farmer, 45, and James Tutt, 64.
Sturgeon carried out the attack with an AR-15-style assault rifle after earlier making a series of ominous Instagram post including one that said: 'They won't listen to words or protests. Let's see if they hear this.' He was 'neutralized' by cops after wounding nine other victims.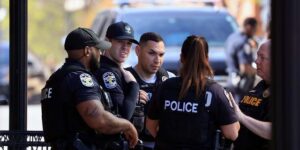 During the shooting it was reportedly overheard on police scanners that Sturgeon was 'suicidal and texted a friend that he would 'shoot up the bank.'
Police confirmed to CNN that Sturgeon had been informed he was going to be fired and that he had left his parents a note indicating he was going to attack the bank.
Connor Sturgeon, 25, has been identified as the shooter at the Old National Bank on Monday
Sturgeon was an employee of the bank. A motive for the shooting remains unclear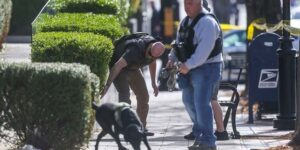 Blood was seen on the steps outside the Old National Bank in Louisville on Monday morning
The mas shooting was America's 146th in 2023 – more than the number of days this year – and came just weeks after the school shooting in Nashville, just three hours drive from Louisville.
Joe Biden later blamed Republicans for failing to crackdown on the epidemic of gun violence.
'How many more Americans must die before Republicans in Congress will act to protect our communities?' The President said. 'It's long past time that we require safe storage of firearms. Require background checks for all gun sales. Eliminate gun manufacturers' immunity from liability. We can and must do these things now.'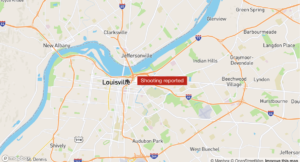 Sturgeon had a middle-class upbringing in Floyd's Knob, Indiana, where at 6ft4ins, he was a star basketball player at Floyd Central High School.
His father Todd served as a coach and resigned from the school in 2022 stating he wanted to spend more time with his family.
Friends today said they would 'never have expected' Sturgeon capable of carrying out such an attack.
Another suggested that a series of concussions that he suffered in his school sporting career may have contributed to his mindset.
The 25-year-old attended the University of Alabama before attending the Manderson Graduate School of Business at the same college.
He had been worker for Old National Bank as a Syndications Associate and Portfolio Banker since July last year, according to his LinkedIn profile.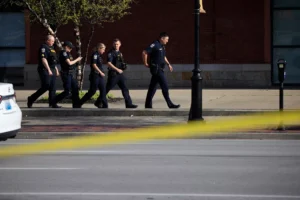 A former friend and teammate of Sturgeon's from high school described the gunman as smart, popular and a star athlete in high school track, football and basketball.
He was the 2016 NTSPY winner for Boys Track Athlete of the Year and won the Evansville Regional crown in the 400-meter during the 2015 – 16 track season, going on to finish 20th in the state meet.
Sturgeon was also named a National Merit Scholar in 2015.
'I know everyone always says this about shooters, but I truly would have never expected it to be him,' the unnamed classmate told the Daily Beast.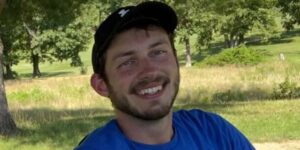 He noted that Sturgeon always wore a helmet during basketball games because he had suffered so many concussions. An Instagram account that was apparently liked to Sturgeon was under the username 'Mr. Concussion.'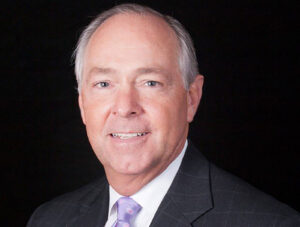 Thomas Elliott, 63, one of Governor Andy Beshear's 'closest' friends, died Monday morning in the mass shooting at Old National Bank in Louisville, Kentucky
Joshua Barrick, 40, a vice president of commercial real estate at the bank, was also killed by the lone gunman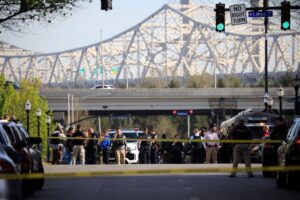 Sturgeon grew up in Indiana, and served on the Floyd Central High School basketball team
He was known to be a star athlete at the Floyd Central High School in Indiana (left) and had been working fulltime at Old National Bank (right at a work event) since last summer
The star athlete was also named a National Merit Scholar in 2015. He is pictured here with an unidentified girl
Sturgeon is pictured with an unidentified woman at an event for the bank where he worked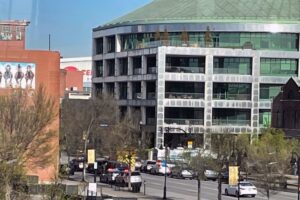 The shooting took place at Old National Bank in downtown Louisville shortly after 8.30am Monday
'The big thing I keep going back to is that in the first year of high school, we played football together in eighth grade, he was out most of the year because he had multiple concussions. Then he had a couple more in high school,' the friend said.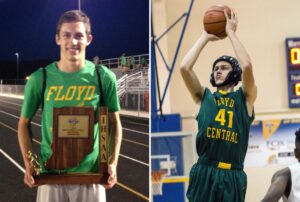 Louisville shooter was star athlete who suffered so many concussions he wore helmet for basketball: classmate
Police  identified the gunman as Connor Sturgeon , 25, an employee at the bank who live streamed his rampage on Instagram before  police shot him…
'I'm not saying it's the cause, but I always think back to that… There were times I'd wonder, will this catch up with him? But never in this way. He's the last person I'd expect would do this.'
Another former friend of the shooter's also told CNN he never saw any red flags.
'This is a total shock. He was a really good kid who came from a really good family,' the friend said. 'I can't even say how much this doesn't make sense, I can't believe it.'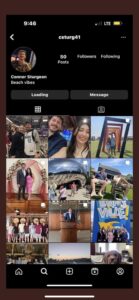 Sturgeon listed 'he/him' pronouns on his LinkedIn profile and recently praised the bank's leadership program, writing he 'can't recommend this program enough.'
'The opportunity to work with great folks in several areas to see where I fit was immensely beneficial,' he said.
He had previously worked at the bank 'for three consecutive summers' while he was in college in Alabama.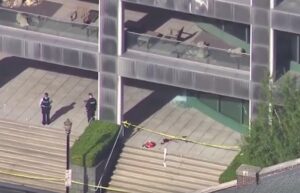 Blood was seen on the stairs of the building
In 2022, Sturgeon also posted about taking part in the Focus Louisville program, saying it was an 'eye-opening experience about many of the issues around Louisville and the people who are working to solve them.
'One of the biggest takeaways was the volume of people who are working to have a positive impact, at places like Junior Achievement, Goodwill and JCTC,' he wrote. 'I'm grateful for the opportunity to learn, and for meeting so many great people as both speakers and classmates.'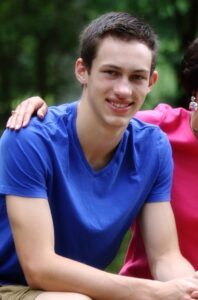 The gunman earned his Master's in Finance from the University of Alabama, which the university later confirmed, and hosted his own basketball podcast.
A 2018 college essay posted to the website Course Hero by a user identified as University of Alabama student Connor Sturgeon, however, says the author had trouble fitting in at school.
'My self-esteem has long been a problem for me,' he wrote. 'As a late bloomer, in middle and high school, I struggled to a certain extent to fit in, and this has given me a somewhat negative self-esteem image that persists today.
'Making friends has never been especially easy, so I have more experience than most in operating alone.'
The author then went on to say that in college he had 'begun to mature socially and am beginning to see improvement in this area' and that he hoped to be 'more self-aware and start becoming a 'better' person.'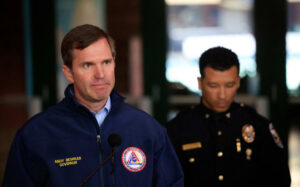 Sturgeon had no previous criminal history, and his mother Lisa and younger brother Cameron were said to have approached police at the scene outside the bank to confirm his identity.
Officers staged outside of the bank as they continued to investigate the scene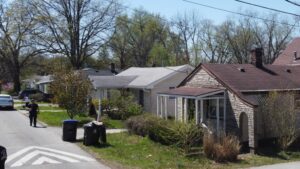 ATF agents and Louisville police officers were seen outside his home following the shooting
Police are seen speaking with neighbors on Sturgeon's street on Monday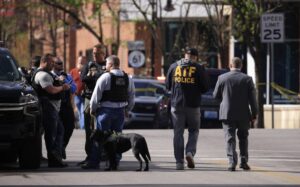 Officers canvassed the neighborhood as they worked to get more information about the suspected shooter
Sturgeon's childhood home in Floyd's Knob, Indiana is pictured here
Louisville Metro police said they arrived at the 300 block of East Main Street within three minutes of the gunman opening fire, and found him still spraying bullets when they arrived.
Videos of the shooting posted online showed officers at the scene running out into the street during rush hour traffic on Monday and warning drivers to get out of the car because there is an 'active shooter.'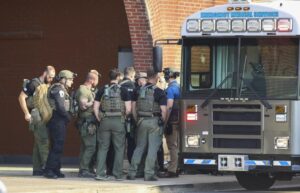 At least three gunshots could be heard in the footage.
Officers were later spotted outside Sturgeon's $200,000 two-bedroom home in the city's Camp Taylor neighborhood. There was yellow crime scene tape and officers appeared to be conducting an investigation.
Witnesses have said that the alleged shooter was carrying a 'long assault rifle' when he fired multiple shots near the conference room at the bank.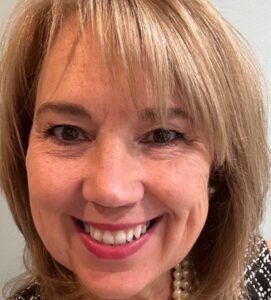 The 5th victim who died from her injuries
Louisville bank shooting claims a fifth victim with administrative officer's death
Victim Deanna Eckert, 57, died in the hospital more than twelve hours after the 23-year-old gunman Connor Sturgeon shot up Old National Bank.
'He just started firing,' an unnamed employee told WHAS. 'I didn't see his face. We were in the conference room.
'Whoever was next to me got shot, their blood's on me,' he added.
Authorities say there is no ongoing threat to the public, but are urging people to avoid the area as the investigation continues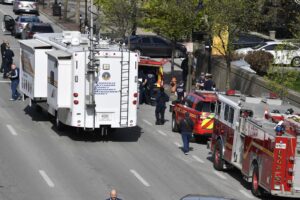 Police were deployed to the scene of the mass shooting in downtown Louisville on Monday morning
Another witness said they heard multiple gunshots as well as breaking glass coming from the bank after she dropped her son off at his job.
'I had just dropped my son off at work on River Road,' an unnamed witness told WDRB. 'I was at the stop light, and the first thing that I saw — there was a guy across the street of the intersection and he was lying down at the entrance to a hotel.'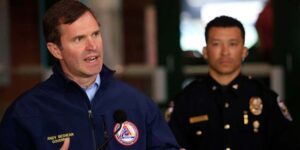 At first, she said, she thought the man was just out for a jog — but then she noticed he was on the steps and not the sidewalk.
That is when she said she heard gunfire, with video from the scene showing at least three shots were fired.
'As I was siting at that intersection, gunfire erupted, like, right over my head,' she said. 'I didn't know if it was going at the bank or out of the bank, I took off.'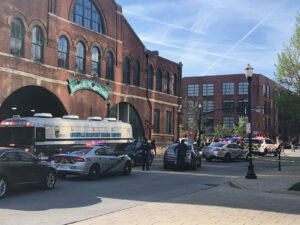 'When I turned, I saw that one of the windows in the bank had been blown out.'
She then said she saw police vehicles pull up to the area.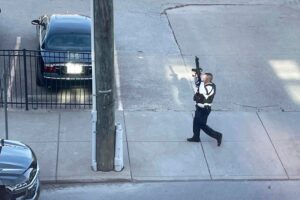 'They were coming from everywhere,' she said. 'The police were coming out of their cars with black rifles.'
'I just ducked in my car and waited there.'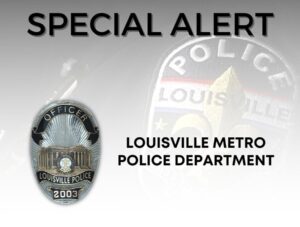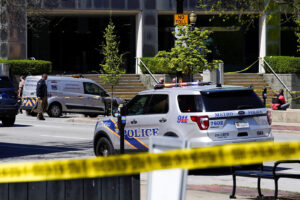 ATF officers were seen with a stretcher outside the Old National Bank on Monday
Ambulances and police cars were seen outside the Louisville Slugger Field following the shooting
At least a dozen police cars and three ambulances responded to the area in the aftermath, according to witnesses on social media, and stretchers were seen being rolled onto some ambulances as blood and glass were seen scattered around the ground.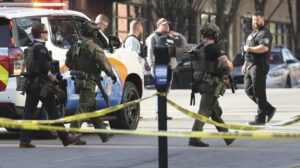 The FBI and Alcohol, Tobacco and Firearms officers are also on the scene as an investigation continues.
In the meantime, Biden is urging Congress to pass gun control measures.
'Once again, our nation mourns after a senseless act of gun violence — Jill and I pray for the lives lost and impacted by today's shooting,' he said in a statement.
'Too many Americans are paying for the price of inaction with their lives,' the president continued. 'When will Republicans in Congress act to protect our communities?'