An EMT was stabbed by a maniac on a Queens street Thursday afternoon — in an unprovoked attack that occurred as she went to get food, authorities said.
Lt. Alison Russo-Elling, a 61-year-old department veteran who was a World Trade Center responder on Sept. 11, 2001, was stabbed more than 20 times by an assailant at 20th Avenue and 41st Street around 2:20 p.m., police said.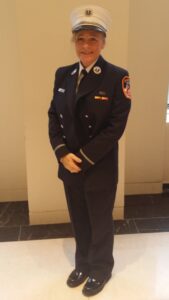 In horrific surveillance footage from the scene, Russo-Elling was knocked to the ground by a knife-wielding madman who proceeds to stab her repeatedly as she lies helpless on the concrete.
She was on duty at the time and was about half-block from Station 49 on the sidewalk when she was attacked, NYPD Chief of Detectives James Essig said.
Officials did not give details about what sparked the violence, but authorities said the attack was "unprovoked."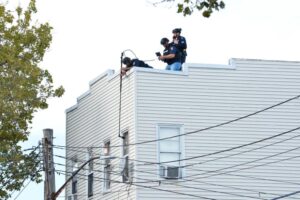 "At this point in the investigation there doesn't appear to have been any prior contact between them," an FDNY source said. "He just walked toward her, sped up and then stabbed her to death."
The 25-year veteran was rushed to Mount Sinai Hospital in critical condition but could not be saved, police said.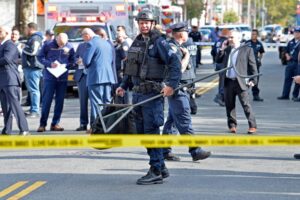 The alleged perp, 34, was arrested after he was chased by a Good Samaritan and barricaded himself inside his nearby apartment, Essig said.
On the third-floor of the apartment, police were able to talk him down and take him into custody, Essig said.
One person who lived in the area near the crime scene in the Astoria area said she felt "terrible" for the officer.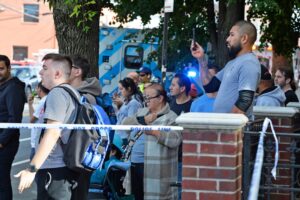 "God, what's going on in this world because this is such a quiet area," said Connie Syrigos. "This is all families here, decent people, working people, and this never happened before. So when I saw this I was very surprised."
FDNY Acting Commissioner Laura Kavanagh called Russo's death "heartbreaking," adding she was stabbed in a "barbaric and completely unprovoked attack."
"We lost one of our heroes," Mayor Eric Adams said during a press briefing.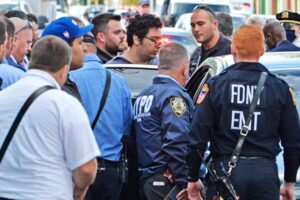 The suspect, whose name was not released, was being held at the 114th Precinct late Thursday.  No charges had been announced.
Camilla Groth, 50, who lives on the same block as the crime scene, called the guy a loner and  "weird," and said she first noticed him when she moved in about two years ago.
"Loner. . .  Something off but completely non-violent" Groth described her neighbor. "I've passed him on these side streets like here or over there," Groth said, gesturing. "I typically go to the other side of the street. I didn't want to meet him or say hi or anything.
"I've never seen him with another person. He was always by himself when I saw him," she added.
Violence against EMTs is not unheard of in the Big Apple. Five years ago, Yadira Arroyo was struck and killed by her own ambulance after it was stolen in the Bronx.
The man accused of killing her, Jose Gonzalez, was determined fit to stand trial earlier this month. His trial date is Jan. 3, 2023, CBS News reported Thursday.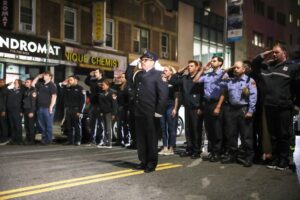 A 25-year-old Richmond University Medical Center EMT was shot in an ambulance by an intoxicated man being transported on Staten Island in 2019. A 20-year-old EMT was attacked the same year on the clock.
Another brave paramedic was savagely attacked on-duty last year by a crazed teenager who allegedly took a bite out of her face.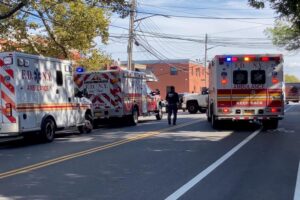 On Thursday evening, the flag at Station 49 where Russo worked was lowered to half-mast as first responders were seen gathering outside the station to mourn the loss of their colleague.
EMT Capt. Mike Daddona told The Post outside the hospital Thursday he and Russo grew up together on the job. He remembered Russo for her kindness.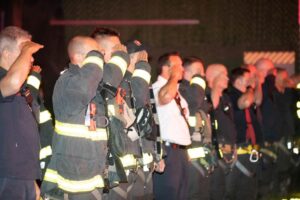 "Great sense of humor. She always greeted you with a smile," he said. "No matter what was going on, she had a smile."
In a joint statement, FDNY-Firefighters Association President Andrew Ansbro and FDNY-Fire Officers Association President Lt. James McCarthy said in a joint statement they stand in solidarity with "our brothers and sisters" in the department.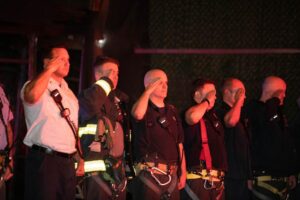 FDNY workers line up outside Mount Sinai Hospital in Queens.DANIEL WILLIAM MCKNIGHT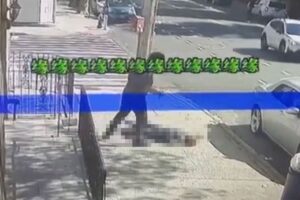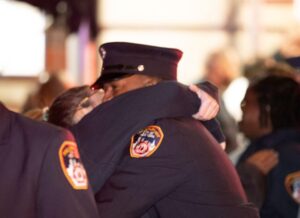 "The death of Alison Russo is a tragic reminder of the dangers faced by each and every member of the FDNY and uniformed services," they said. "Her senseless killing brings sorrow to every member of the FDNY.FIRE DEPARTMENT NEW YORK