Gunshots outside a popular New Orleans eatery over the weekend killed a waiter and wounded a tourist visiting the Big Easy from Chicago, authorities said.
Interim New Orleans police Superintendent Michelle Woodfork told reporters that the shooting happened outside Mandina's Restaurant in the Mid-City neighborhood Friday night.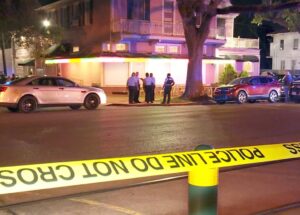 Woodfork said police believe two suspects who arrived by car targeted the waiter, identified by family members to the Times-Picayune of New Orleans as 23-year-old Hilbert Walker III.
He was gunned down while serving customers dining outside in the 3800 block of Canal Street around 8:20 p.m.
A security guard returned fire, Woodfork said, and was not injured. The shooting sent terrified diners inside the landmark eatery diving for cover.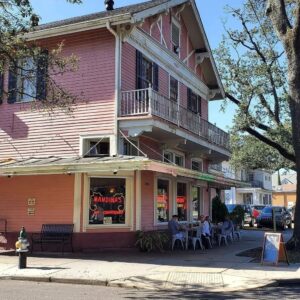 A 54-year-old Chicago woman was visiting for the annual New Orleans Jazz and Heritage Festival and was at Mandina's "to celebrate the birthday of a friend" when one of the bullets pierced the front wall and struck her, police said.
Terri Hemmert, a veteran Chicago radio host at WXRT-FM, wrote on Facebook that she was celebrating her birthday with 28 of her friends when her party was "interrupted by a hail of bullets."
A shooting outside Mandina's Restaurant in New Orleans Friday night left a waiter dead and a diner visiting from Chicago wounded.Mandina's Restaurant
Waiter Hilbert Walker III, 23, was the intended target of the two gunmen, according to police.Family Handout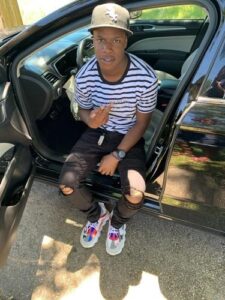 "There was blood. And a bullet hole on the wall. Two inches from me. And a bullet in my friend's back," Hemmert recounted. "It was surreal. But it was real. Only too real."
The shooting came on the first day of the two-weekend Jazz Fest, one of the busiest tourist periods in the city.
"This was an isolated incident that did not occur in the vicinity of the festival," Woodfork said.
A 54-year-old woman celebrating her friend's birthday in the main dining hall was hit in the back by a stray bullet that went through the front wall.Mandina's Restaurant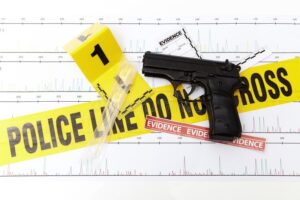 Police said Harris was the assailants' intended target. As of Monday afternoon, no arrests have been made and no motive has been revealed.
Mandina's remained closed through the weekend but reopened for lunch service Monday. The family-owned business has been in operation since 1932 and is renowned for its traditional New Orleans specialties.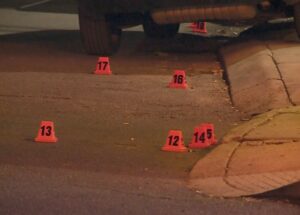 New Orleans Mayor LaToya Cantrell sent her condolences to the victims of the shooting.
"A celebratory day was later marred by another senseless act of violence," she said in a statement.
With Post wires