Staff sergeant Pavel Kuzin took his position at the machine gun – the only soldier still able to fight. Everyone else in his troop lay dead or injured.
Suffering from shell-shock and with one arm bandaged, the 37-year-old fired at the waves of Russian soldiers trying to storm his position. They didn't even try to take cover, but simply walked towards him across the open field.
It was clear Pavel wouldn't be able to hold the position for long, but he needed to buy time for a rescue team to arrive. His final action in life was to ensure his wounded comrades got to safety.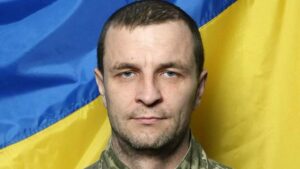 The Ukrainian military says Bakhmut is now the scene of many "unprecedentedly bloody" battles like this, where they now have to repel up to 50 attacks on their positions every day. Russia has concentrated massive forces in this area, and their brutal strategy of launching human wave attacks helps them to advance slowly – but at a very high cost.
Pavel was in charge of a forward observation group that consisted of six Ukrainian soldiers. On 17 February, shortly after the start of their watch, they came under heavy fire. A tank began hammering their position.
Unlike relentless mortar rounds, the tank's aiming was chillingly accurate. Shells were landing a few metres from their trenches. Two soldiers were wounded and Pavel told them to go into a dugout. A combat medic went down to tend to their injuries and prepare them for an evacuation. Moments later, the wooden shelter was directly hit by a shell.
"There was a bright flash," one of the wounded soldiers with a callsign Tsygan told the BBC. "I was thrown onto the logs with such force that it nearly crushed me. I couldn't understand whether I was dead or alive. Someone was shouting, it seemed the sound was coming from 100m away."
I couldn't understand whether I was dead or alive