The real-life Count of Monte Cristo
Pierre Picaud was a 19th-century shoemaker in Nîmes, France, who in 1807 was living well and set to marry a wealthy woman. But three "friends" of his—Chaubart, Solari, and Loupian—accused him of spying for England, and Picaud was sent to prison for the next seven years. There, he befriended an Italian priest who, upon his death, bequeathed a hidden fortune to Picaud. When the French imperial government fell in 1814, Picaud was released, and spent the next 10 years plotting his revenge. If this sounds like Alexandre Dumas's novel, that's no coincidence.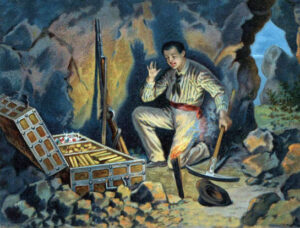 After collecting the treasure and changing his name, Picaud either killed or had Chaubart assassinated. Then he found Solari and poisoned him to death. But he saved the worst for Loupian, who married his former fiancée. He tricked Loupian's daughter into marrying a criminal, then had the criminal arrested, leading to her death from nervous breakdown. Then he burned down Loupian's restaurant, leaving him in poverty, and got Loupian's son arrested for stealing gold. Finally, he stabbed Loupian to death himself.