Poland will hand over four MiG-29 fighter jets to Ukraine in the coming days, making the Eastern European country the first member of the NATO bloc to supply warplanes to Kyiv after months of pleading.
Polish President Andrzej Duda, one of Ukraine's staunchest supporters, made the announcement Thursday.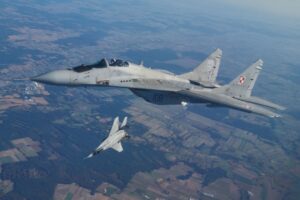 "We can say confidently that we are sending MiGs to Ukraine," Duda said at a press conference in Warsaw.
"We have a dozen or so MiGs that we got in the '90s handed down from the German Democratic Republic [East Germany] and they are functional and play a part in the defense of our airspace.
"They are at the end of their operational life but are still functional."
The president added that the first four planes "in full working order" will be handed to Ukraine in the next few days. Additional aircraft will be delivered after being "serviced and prepared for handover."
On Tuesday, Poland's Prime Minister Mateusz Morawiecki said his government could send its MiGs "within the next four to six weeks."
Polish leaders previously stressed that sending the fighter jets to Ukraine would be done only within a larger international coalition.
Slovakia has also expressed willingness to supply its MiG-29s to Kyiv but has stopped short of announcing a decision.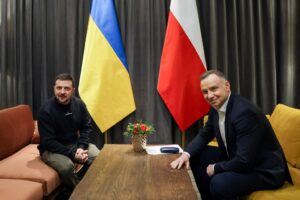 The two nations have been lobbying other NATO members to follow suit.
Denmark's Prime Minister Mette Frederiksen said Thursday that the debate about sending fighter jets was ongoing.
"This is something we're discussing in the group of allied countries. It's a big wish from Ukraine," she said.
Ukraine's air force pilots are familiar with the Soviet-era MiG-29s and could put them to use right away without having to spend months learning to fly them, which would be the case with other foreign aircraft.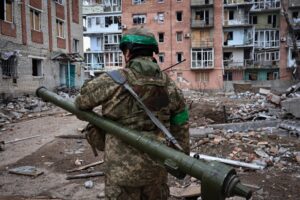 The Polish air force reportedly has 28 of the warplanes, which it has been using since 1989. Asked last week how many of the aircraft Warsaw might supply to Kyiv, the head of the president's office, Pawel Szrot, said it would "certainly" be fewer than 14.
Ukraine's President Volodymyr Zelensky has repeatedly called on leading NATO countries, including the US and Great Britain, to send Kyiv modern fighter jets to defend Ukrainian cities from Russia's deadly missile and drone attacks.
President Biden in January flatly rejected the notion of handing over F-16 planes to Ukraine.
Since the beginning of the war in February 2022, the US has provided $27.5 billion in vital military assistance, including equipment and munitions, to Ukraine.
But according to reporting by the New York Times, even that might be insufficient given the furious pace at which Kyiv's forces defending the key city of Bakhmut have been burning through ammunition.
American and European officials have warned Kyiv that firing thousands of artillery shells a day at the enemy was unsustainable and could potentially jeopardize Ukraine's planned counteroffensive aimed at retaking territories controlled by Moscow's forces.
The US and Britain are preparing to supply thousands of artillery shells and rockets to replenish Ukraine's dwindling supplies this spring, and European Union countries are pooling their resources to produce and buy more ammunition.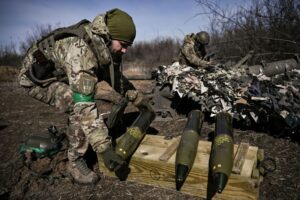 But an American defense official speaking to the Times on condition of anonymity warned that Ukraine's NATO allies do not have enough ammo in their stockpiles to meet the continually growing demand, and churning out more will take months and possibly years.
Ukraine's leadership has made a decision to take a stand and defend Bakhmut, which Moscow's regular forces and mercenaries from the Wagner Group have been trying to capture for months at an enormous cost in lives on both sides.
The Ukrainian military is facing a crucial dilemma: to hold Bakhmut at all costs, and in doing so potentially imperil a counteroffensive, or to allow the enemy to seize the strategically important city that could open a path for Vladimir Putin's troops to make additional territorial gains.
Ukraine has decided to defend Bakhmut in the east, but experts are concerned that it could put Kyiv's planned counteroffensive at risk.
Experts are divided on Bakhmut's importance, with some arguing that Ukraine's forces are wearing down Russian reserves in the front-line "meat grinder" to buy Kyiv more time ahead of the counteroffensive, and others warning that Ukraine itself could run out of troops and ammunition to continue the fight.