A paramedic in his 20s was fatally stabbed outside a fast-food restaurant in Sydney.
A man, 21, was arrested by police at the scene and taken in for questioning.
Health officials and colleagues described the incident as 'very difficult to process' and 'incomprehensible'.
A young ambulance paramedic has been killed on duty, the victim of a car park stabbing at a McDonald's in Sydney's southwest that has devastated colleagues and senior health officials.
The officer, aged in his late 20s, was fatally stabbed outside the fast food restaurant in Campbelltown while he and a workmate were on a break at about 5.30am on Friday.
He later died of his injuries in Liverpool Hospital.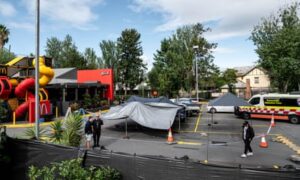 'Difficult to process'
NSW Ambulance Commissioner Dominic Morgan said he had been told by the slain man's father his son had always wanted to be a paramedic and had just been re-posted to southwest Sydney.
"I've met with the family and as you can imagine personally, it's very difficult to process," he said.
"Any person just going to work to do their job, let alone a paramedic who puts themselves on the line for the community to not come home is a tragedy.
We are beyond heartbroken today following the death of a paramedic while on duty in Campbelltown this morning.
Our thoughts are with his loved ones and colleagues, and we thank police and clinicians at Liverpool Hospital for their assistance.
Our paramedics serve the community on the frontline every day and we are extremely grateful for their dedicated service.
#NSWAmbulance
"I'm told that he was just so pleased that he was going to be able to stay here with his family, bring up his children and look forward to the area that he lived in and loved more than anything."
Dr Morgan thanked the hospital workers who had tried to save the paramedic's life.
"The surgeons … worked valiantly, albeit futile in this instance, to support our colleague," he said.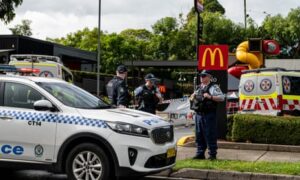 'Incomprehensible'
NSW Health Secretary Susan Pearce broke down at a press conference, telling reporters the health system was one big family.
"To lose someone in this way is incomprehensible to us. Our health system has been through a lot over these last three years," she said.
"We're so grateful to the police for their assistance this morning, to the words of condolence that we've received from so many.
"Everything conceivable that we can do to support the loved ones of our paramedic will be done."
A man, 21, was arrested by police at the scene and taken in for questioning.
Detectives are seeking information about a blue Honda Jazz sedan being driven around the Ingleburn and Campbelltown areas.
Premier Chris Minns said the incident was a reminder of the job's dangers.
"NSW has lost a young paramedic, a young man whose life was in front of him," he told reporters.
"Obviously our hearts go out to his family and all paramedics across NSW.