A Brooklyn mom with a history of mental health issues is suspected of drowning her three young kids on Coney Island beach early Monday — having confessed to kin that she killed them, family and law enforcement sources said.
Erin Merdy's children — 3-month-old Oliver, 4-year-old Liliana and 7-year-old Zachary — were discovered unresponsive around 4:40 a.m. along the shoreline at West 35th Street, just three blocks from their mother's apartment, authorities and law enforcement sources said.
Merdy, 30, told relatives she "drowned all three kids," and she was later found walking along the beach barefoot and in a robe, appearing "despondent," cops and sources said.
"The mother was soaking wet," NYPD Chief of Department Kenneth Corey said at a press conference. "Whether she had been out in the rain or whether she had been in the water, again, is all speculative at this point. She was wet, she was barefoot, and she was not communicative to the officers."
Police have obtained surveillance video that shows Merdy and her three children walking to the beach and then the mom returning without them, sources said.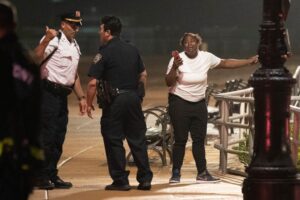 Merdy was initially taken to the 60th Precinct for questioning and then carted off on a stretcher to NYU Langone Hospital in Brooklyn, according to sources and exclusive Post photos and video.
"We're devastated. They were kids. They were adorable kids," said Dine Stephen, Merdy's aunt.
"It's someone who was struggling, and no one knew how bad the struggle was.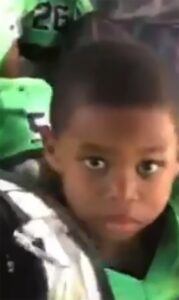 Stephen said Merdy's family has a history of mental illness and her niece was "struggling" as "she was trying to find her way through life."
"In this family we do have a history of mental illness to varying degrees. A few of us have battled with bipolar disorder, but I didn't know her mental struggles. I just knew she was trying to find a way for her children, a way to get on her feet," said Stephen.
"She loved her children. She loved her children very much. It was the mental issues that took over."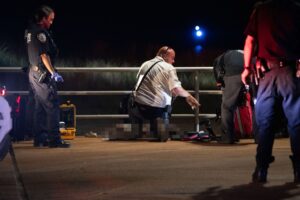 An intensive search for the mother and the kids began about three hours before the children were found on the beach, when a relative called police, expressing fears that the mom might have harmed the children, Corey told reporters.
Police responded to the family's apartment on Neptune Avenue near West 33rd Street around 1:40 a.m., Corey said.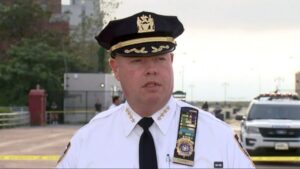 No one answered a knock at the door — but officers were met by the father of one of the kids inside the building, Corey said.
He "expressed similar concerns" about the welfare of the mom and kids and said he believed they were on the Coney Island beach, according to Corey.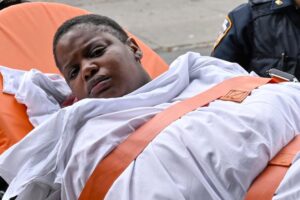 "I believe that she had called them and made statements to them to that effect," Corey said of the relatives, when asked why the family members believed the woman would harm her kids.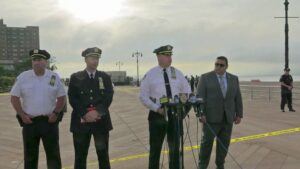 Law enforcement sources said numerous family members had called 911 to report Merdy "may have done something to the kids," might be under the influence of alcohol or drugs and has a history of mental health issues.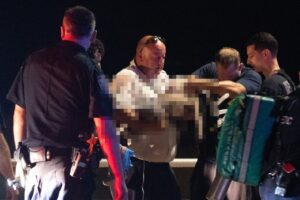 A relative said the mom admitted she'd "drowned all three kids," according to sources.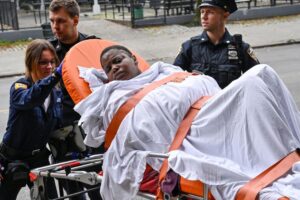 After being directed to the beach to search for the mom and kids, police swarmed the boardwalk, the shoreline and the surrounding streets for about 90 minutes before they received another 911 call sending them to the Brighton Beach boardwalk, near Beach 6th Street, Corey said.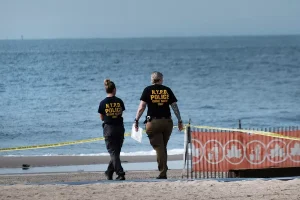 There, cops found Merdy with some of her relatives — but all three kids were nowhere to be found, Corey said.