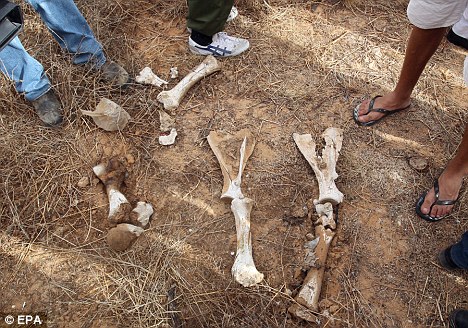 The full horror of ousted Libyan leader Moammar Gaddafi's ruthless regime – A mass grave containing the bodies of 1,270 prisoners of the former dictator was unearthed.
The human remains – found in a desert field outside the notorious Abu Salim Prison in Tripoli – are believed to be those of prisoners massacred by Gaddafi's henchmen in 1996. Gaddafi gave the order for the mass execution after inmates complained about conditions at the prison.
Authorities were able to uncover the site after interrogating former prison security guards captured during the rebel takeover.
Body of evidence: The site contains the bone fragments of more than 1,200 people killed by Gaddafi's security forces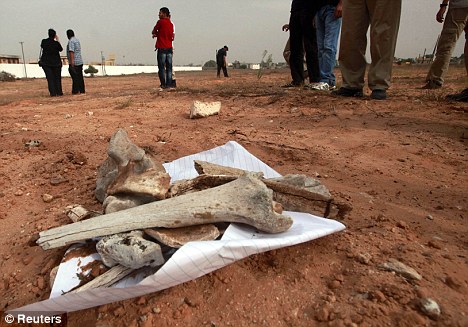 The new regime will ask for international assistance in excavating and identifying the remains because the Libyans don't have sufficient expertise and equipment to test the DNA.
Libyans are eager for those who committed crimes under the old regime to face justice and have been moving forward with efforts to account for the past even as fighting continues in parts of the country.
On Saturday, Gunmen loyal to Gaddafi crossed into Libya from Algeria and attacked revolutionary forces in a town near the frontier, killing six people. Revolutionary forces had repelled the attack but the assailants escaped back across the border.
Cold comfort: A man salvages some of the bones in the hope of trying to establish what became of a missing relative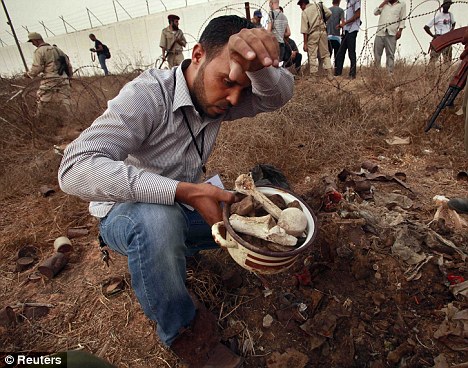 The cross-border attack shows loyalist forces have managed to escape Libya and regroup and collect arms, bolstering fears the North African nation could face a protracted insurgency.
Fighters who took up arms against Gaddafi have seized Tripoli and have gained control of the rest of the country, but they are still battling forces loyal to the ousted regime on several fronts.
Gaddafi's wife and three of his children, including his daughter Aisha, fled to Algeria after Tripoli's fall late last month. The whereabouts of the fugitive leader remain unknown and he continues to try to rally supporters.
That has raised concern that he could stoke violence as fighting continues between revolutionary forces in his hometown of Sirte and two other strongholds.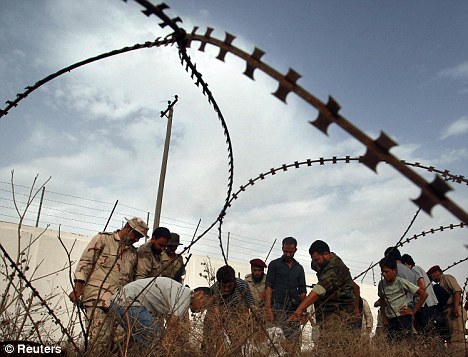 Searching for justice: Authorities have promised to excavate the site in the hope of identifying the victims of the massacre