Chilling video captured a Louisiana woman allegedly carting a bucket containing the body of her boyfriend's slain 6-year-old daughter before dumping it outside the home of the girl's mother.
Bunnak "Hannah" Landon, 43, was charged with first-degree murder and obstruction of justice after she was seen wheeling the chlorine bucket in a wagon in the New Orleans suburb of Harahan about 9:30 p.m. Tuesday.
Inside was the body of Bella Fontenelle, who had been beaten and strangled, the New Orleans Advocate reported, citing Jefferson Parish Coroner Gerry Cvitanovich.
Landon lived with Bella's dad and little sister on Donelon Drive, where she allegedly killed the girl before placing her body into the bucket and taking it to nearby Sedgfield Drive.
Bella's father, who has not been named, reported Bella and his girlfriend missing to police about 7:30 a.m. Wednesday, Sheriff Joseph Lopinto told WDSU.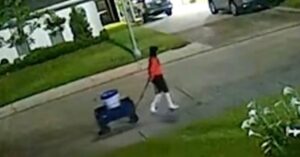 Police launched an investigation and went to the biological mom's home, where they made the horrifying discovery in the bucket on the front lawn about an hour later.
"When they opened up the bucket, they found the 6-year-old deceased," Lopinto told the Advocate.
Investigators then canvassed the neighborhood and obtained surveillance footage from several homes, including a video showing a woman matching Landon's description wheeling the bucket.
Bunnak "Hannah" Landon, 43, was allegedly caught on video carrying the body of Bella Fontenelle, the 6-year-old daughter of her boyfriend, inside a bucket to the home of the girl's mother.Jefferson Parish Sheriffâs Office
Landon was charged with first-degree murder and obstruction of justice.Jefferson Parish Sheriffâs Office
She was located at an area hospital about 2 p.m. Wednesday and taken into custody.
The sheriff's office said Landon had been transported to the hospital for an evaluation after she showed up at the Harahan Police Department. It was unclear what she was evaluated for.
Neither of Bella's biological parents is believed to have been involved in the gruesome killing, Lopinto said.
Cvitanovich, the coroner, said the preliminary autopsy showed Bella's cause of death to be "manual strangulation along with blunt force injuries to the head," WWL reported.
"I want to add that Bella's body was intact and contrary to public speculation, there was no dismemberment of any kind," he said. "Child deaths are always terrible, especially ones like this that should not have happened. Quite honestly, it's personal for all of us."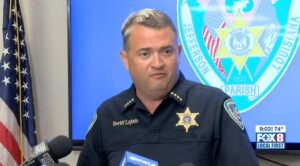 According to court documents from 2021 cited by WDSU, Landon was named as a suspect in a country club incident that led to injuries on the face and hands of Bella's mother.
Landon was cited for simple battery, but it's unclear what the resolution of the case was after she filed a temporary restraining order against the child's mother, claiming she feared she would suffer injury, loss or damage, the outlet reported.
Bella attended St. Matthew the Apostle School, which has canceled classes for the rest of the week.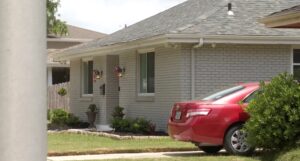 "It is with heavy hearts and great sorrow that we write to you. We have been informed by the Jefferson Parish Sheriff's Office that a Kindergarten student here at St. Matthew the Apostle was found dead today," the school said in a letter to parents.
"We ask you to pray for us and for all those impacted by this tragedy. Let us pray together that the child's family and that our St. Matthew the Apostle community will feel God's love and mercy in the midst of this devastating loss," it added.
St. Matthew said it was providing emotional support for students, faculty and the community.
Harahan Mayor Tim Baudier also addressed the community.
"As many of you know, there is an ongoing police investigation involving residents of our community — one of which is a young child. Our community prays for all those affected and that they may be comforted by the love and grace of God now and forever," he wrote.
"I do not have any answers to why this happened. None of us do. Nor will we ever completely know or understand," the mayor continued. "For over 100 years, our small community is and has been based on faith, family, and friendship. It's what sets us apart. Things like this do not happen in Harahan but today, it did."
Neighbors told Fox 8 Live there was never any sign that something so tragic would happen to the family.
"It's tough. It's still tough thinking about it," Ken Livaudais, who lives a few homes from where the child was found, told the outlet.