A warrant was issued Friday by the International Criminal Court for the arrest of Russian President Vladimir Putin, accusing him of war crimes including an alleged scheme to deport Ukrainian children to Russia.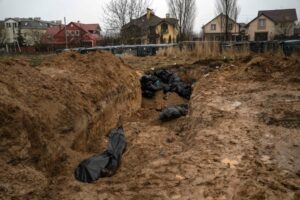 The court called for Putin's arrest on suspicion of unlawful abduction and deportation of children, along with the illegal transfer of people from Ukraine to Russia, in its first warrant related to the Kremlin's brutal, year-long invasion.
The ICC has issued an arrest warrant for Russian President Vladimir Putin for war crimes committed in Ukraine.
Residential buildings were damaged during the Ukraine-Russia war in Mariupol, Ukraine.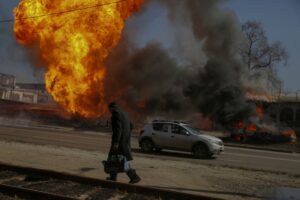 A man walks past a fire after a shelling, as Russia's attack on Ukraine continues.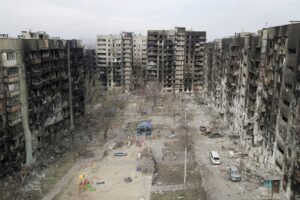 "There are reasonable grounds to believe that Putin bears individual criminal responsibility for the aforementioned crimes," The Hague, Netherlands-based court said.
Regarding the child abductions, Putin allegedly "committed the acts directly, jointly with others and/or through others (and) for his failure to exercise control properly over civilian and military subordinates who committed the acts."
Separately, the court issued a warrant for Maria Lvova-Belova, Russia's commissioner for children's rights, on the same charges as her boss.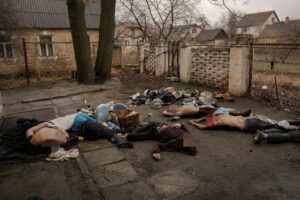 The bodies of men, some with their hands tied behind their backs, lie on the ground in Bucha, Ukraine.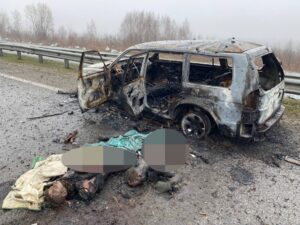 Countless people lost their lives during the war.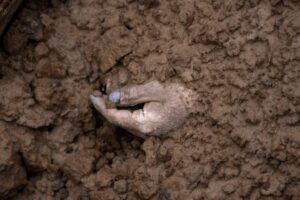 Lvova-Belova, who works directly under Putin, has openly advocated stripping children of their Ukrainian identities and has led the effort to do so.
The move followed a year-long investigation by ICC prosecutor Karim Khan, who has visited Ukraine four times since the outbreak of the war to gather evidence of possible war crimes and genocide.
While the judges have issued the warrants, it will be up to the international community to enforce them because the court has no police force of its own capable of carrying out arrests, ICC Judge Piotr Hofmanski said in a video statement.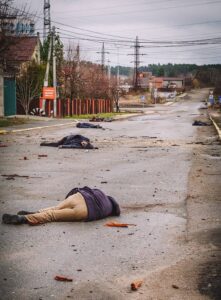 Dead bodies are seen scattered along the road in Ukraine.Ivan Zakharenko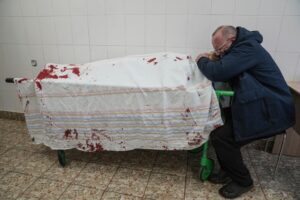 President Biden said Friday that he believes the arrest warrant is "justified" but might be difficult to enforce.
"I think it's justified, but the question is it's not recognized internationally by us either," Biden, 80, told reporters before departing the White House for a weekend trip to Delaware.
"But I think it makes a very strong point," the president said, adding that Putin "clearly committed war crimes" in Ukraine.
Ukrainian President Volodymyr Zelensky hailed the move in a speech Friday night.
"In the criminal proceedings being investigated by our law enforcement officers, more than 16,000 forced deportations of Ukrainian children by the occupier have already been recorded. But the real, full number of deportees may be much higher," Zelensky said. "Such a criminal operation would have been impossible without the order of the highest leader of the terrorist state."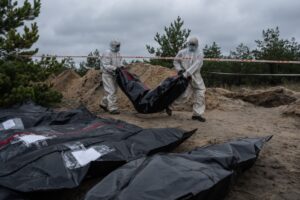 Ukraine's Prosecutor General Andriy Kostin also praised the ICC for what he called its "historic" decision to seek Putin's arrest.
Andriy Yermak, Ukrainian President Volodymyr Zelensky's chief of staff, wrote on his Telegram channel that the warrant for Russia's leader is "only the beginning."
Ukraine's Foreign Minister Dmytro Kuleba remarked that the "wheels of Justice are turning," and added that "international criminals will be held accountable for stealing children and other international crimes."
Meanwhile, the Kremlin has called the  warrant "outrageous and unacceptable."
"We consider the very posing of the question outrageous and unacceptable. Russia, like a number of states, does not recognize the jurisdiction of this court and, accordingly, any decisions of this kind are null and void for the Russian Federation from the point of view of law," Kremlin spokesman Dmitry Peskov tweeted Friday.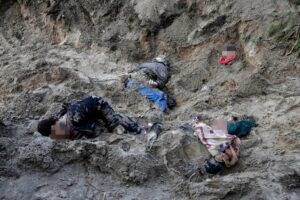 The Kremlin also dismissed the warrants as meaningless, given that Russia does not recognize the ICC's jurisdiction.
"The decisions of the International Criminal Court have no meaning for our country, including from a legal point of view," Foreign Ministry spokeswoman Maria Zakharova said on her Telegram channel.
The Kremlin has repeatedly denied claims made by Ukraine and its Western allies that Moscow's troops have been committing atrocities and attacking civilians — despite regularly ordering missile and kamikaze drone strikes targeting apartment buildings and the country's power grid.
The warrant from the ICC in The Hague came a day after a UN-backed report found that Russia's "systemic and widespread" use of torture, rape, and killings of civilians during the conflict in Ukraine amounted to war crimes and possibly crimes against humanity.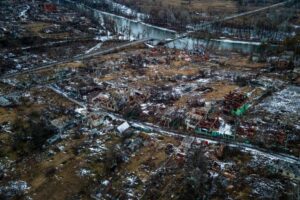 Child abductions carried out as part of Russia's "filtration" system represent a particularly painful facet of the brutal conflict.
Daria Herasymchuk, Ukraine's commissioner for children's rights, recently told the Sunday Times that her office has so far documented 16,221 cases of child kidnappings by Russia, but she said the real figure could be in the hundreds of thousands.
Some of the children have been ripped from their families and placed in re-education camps under the guise of being sent to health camps in annexed Crimea, according to reports.
While at the camps, kids reported being held in harsh conditions, forced to watch Russian propaganda, and allegedly subjected to physical and sexual violence.
Only a little more than 300 children have so far been retrieved from Russian captivity, according to Ukraine's commissioner for children's rights.
Russians have been candid about finding new homes for Ukrainian children, who they claimed had been abandoned by their families.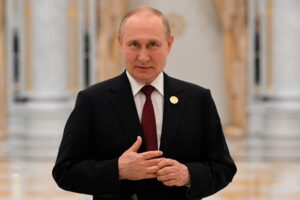 Lvova-Belova, the Russian presidential commissioner for children's rights who has now an ICC warrant out for her arrest, has been quoted as saying that 350 children have been adopted so far by Russian families, with a further 1,000 awaiting adoption.
Lvova-Belova herself has bragged about adopting a boy from the city of Mariupol.
In January, UN refugee agency chief Filippo Grandi condemned Russia for pressing thousands of Ukrainian children into adoption and forcing Russian citizenship on them.