We followed these elite soldiers who have come from all over the world to serve France. For Droit de Savoir" he filmed these Foreign Legion new recruits during the different stages of training in Djibouti, in Guyana and also during the violent operations in the Ivory Coast.

From a series of warning shots at a column of vehicles led by the Ivory Coast president's rebels in power to the training sessions in the Guianese equatorial forest or in the Djibouti desert, the most dangerous and hazardous missions are the ones given to these "men without pasts."
GUNS FOR HIRE. FRENCH FOREIGN LEGION
Eighty percent of these trainees successfully complete the training compared to only 50 percent among soldiers of the regular army. Considered as one of the best professional troops of the French army, the Foreign Legion is conceived to deal with the high risk missions where the probability of losing soldiers is highest.
This is also the only army unit where men have the right to a second chance no matter what their past.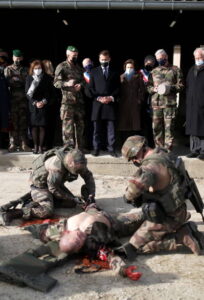 An exceptional document which testifies to the reality of ground combat, and where the adversity and danger lived through together create a durable cohesion."