Authorities released footage of five Utah cops yelling "gun" and firing a barrage of bullets into the BMW of a man who was pulled over and then refused most of the officers' commands before shots rang out.
The bodycam video detailed the moment police officers in Farmington, a Utah suburb, shot and killed 25-year-old Chase Allan on March 1.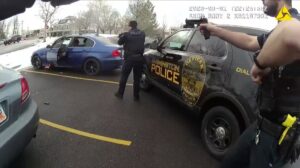 He refused to hand over his driver's license and declined other police commands as he recited anti-governmental views, footage indicates.
Farmington Police Chief Eric Johnsen said officers only fired after Allan reached down to what the cops believed could be a holster or a gun.
But Johnsen, during a Wednesday press conference, also acknowledged the footage is not clear leading up to the shooting because the bodycams' view of Allan's hip holster is blocked by the car door and an officer leaning in to yank him out just as another cop warned of a gun.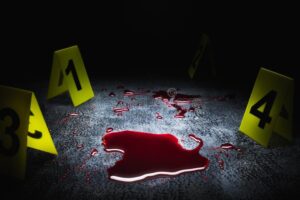 The footage and photos show a handgun on the floorboard of the car.
Footage also shows an empty holster on Allan's hip.
When the officer originally approached the car in a post office parking lot, he told Allan he was pulled over for what police later called an "illegitimate license plate."
"I don't need registration and I don't answer questions," Allan, a former college soccer player, said after he was asked a question.
Police body-worn camera footage shows officers holding up their weapons during the traffic stop on March 1, 2023, in Farmington, Utah.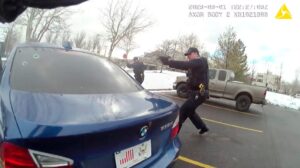 The cop then called for backup, and warned Allan, "The direction this encounter goes is 100% in your hands," as they two argued over the law.
He eventually provided a passport but refused to leave the car after a demand from the officers, the footage shows.
Another officer threatened to break the window of the car to drag him out.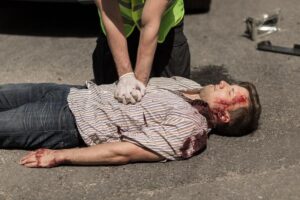 The footage shows Allan holding a phone in his right hand before switching it to his left hand which freed up the hand closer to his holster moments before cops fired.
An officer opened the driver's side door and Allan made a move, though it's uncertain whether it was to unbuckle his seatbelt or to go for the holster.
An officer then yelled "Gun!" as the five cops moved around the vehicle and started shooting from every direction before they stopped moments later.
Before shots were fired by police, no gun was visible in the holster or anywhere else in the footage.
Allan was taken to the hospital and later pronounced dead. Police have not alleged Allan fired a gun during the confrontation.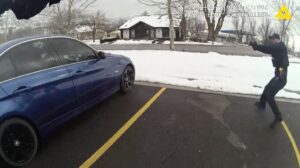 Allan's family has sharply criticized the department and alleged their loved one died in a "brutal murder" while Allan sat in his car "likely terrified," according to reports.
Allan's relatives also claimed the police were "stonewalling" them and didn't notify them of Chase's death — they reportedly found out through the media.