Five people were hospitalized after two suspects opened fire on a Los Angeles beach on Saturday night, police said.
Los Angeles Police responded to a shooting at Royal Palms Beach in San Pedro around 5:45 p.m. and found five male victims with gunshot wounds, the LAPD told KTLA.
Police said the two male suspects approached a group of about 20-30 20-somethings hanging out on the beach.
After some kind of altercation, the pair fired at least ten rounds from a semi-automatic handgun before fleeing the scene in a silver sedan, cops said.
The victims, who were aged between 15 and 51, were transported to an area hospital for treatment, KTLA reported. Four of the victims were in stable condition and one was in critical condition,police said.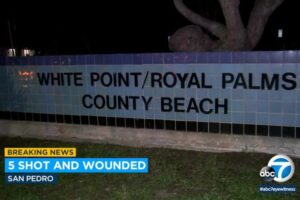 No arrests have been made.
"We're outraged and saddened by the shooting at Royal Palms Beach in San Pedro that has left 5 people injured. It's tragically ironic that today we hosted a gun buy-back event just a few miles away from this location," Los Angeles County Supervisor Janice Hahn and Los Angeles City Councilmember Tim McOsker said in a joint statement.
"Gun violence is wreaking havoc on our community."
Hahn and McOsker said the beach will be closed tomorrow and will close earlier on the weekends in the future until a safety plan is developed to curb violence.