A teenager opened fire at a school in Serbia's capital Belgrade this morning.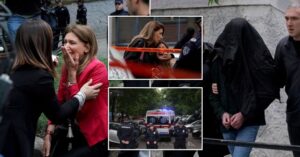 Eight children and a security guard have been killed in the attack in the Vladislav Ribnikar School in Vračar, a wealthy area in the centre where several embassies are located.
Police confirmed that six more pupils and a teacher were injured, some seriously.
Milan Milosevic, who said his daughter was in a history class when the shooting took place, told N1 television he rushed out when he heard what had happened.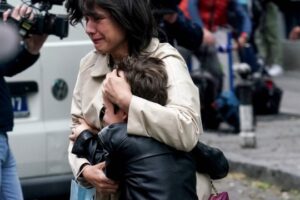 A parent escorts her child away from the scene (Picture: AFP)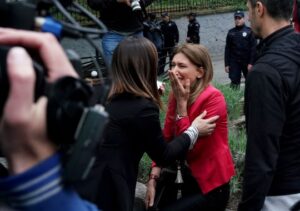 A parent seen crying outside the building (Picture: AFP)
Teachers consoled some of the students (Picture: EPA)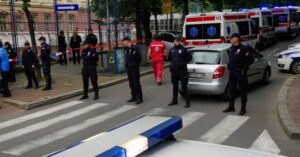 'I asked where my child is but no one could tell me anything at first,' he recalled. 'Then she called and we found out she was out.
'He [the shooter] fired first at the teacher and then the children who ducked under the desks,' Mr Milosevic quoted his daughter as saying.
'She said he was a quiet boy and a good student.'
Police received a call about gunfire being opened in the primary school at around 8.40am.
The suspect, a boy in the seventh grade (aged around 13), was arrested, police said.
Police officers escort the seventh grade student who is suspected of firing several shots at the school (Picture: AFP) FEATURE IMAGE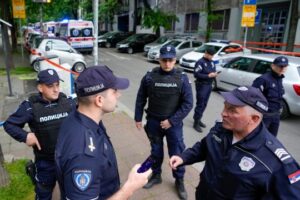 The incident happened at around 8am this morning (Picture: AP)
The statement added that he apparently fired several shots from his father's gun at other students and the school guard.
Local media footage from the scene showed commotion outside the building as police removed the suspect, whose head was covered as officers led him to a car parked in the street.
Dr Marko Ercegovac, director of the Emergency Center in Belgrade, told Danas a teacher and three students have been rushed to hospital.
Terrified parents rushed to the school to try and find their children as they were being evacuated.
Five ambulances parked in Kralja Milutin Street, while police sealed off the taped area

A motive behind the attack remains unconfirmed, and police gave no further details about the shooter's state.
He was only identified by his initials, KK. A statement confirmed he was a student at the school and was born in 2009.
Mass shootings in Serbia are rare. Experts, however, have repeatedly warned of the number of weapons left over in the country after the wars of the 1990s.