In 2001, Robert Fisher is accused of killing his wife and 2 kids, then burning their house down. Despite an exhaustive manhunt, he has never been seen again. It's one of the most infamous true crime cases in Arizona history. But only so much has been publicly known about the case until now.
Overnight, the man publicly known as Scottsdale fugitive Robert Fisher aged 17 years.
Law-enforcement officials on Friday unveiled the latest age-enhanced renderings of Fisher, a notorious Valley suspect accused of killing his family in 2001. The most recent photo of Fisher that was widely circulated by the FBI was taken in 1999.
Sunday marks the 15th anniversary of the murders. The renderings offer a variety of potential looks for Fisher, now 54.
Fisher has been a fixture on the FBI's Ten Most Wanted list since 2002.
Scottsdale police and Phoenix FBI officials released the photos at a joint news conference at FBI's Phoenix headquarters Friday afternoon.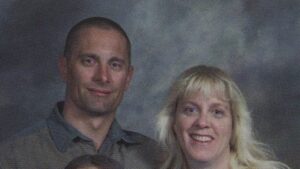 They urged the public to remain vigilant.
"Fisher could easily be surviving in the wild, or be your next-door neighbor," said Justin Tolomeo, FBI's acting special agent in charge.
Early on April 10, 2001, the charred remains of Fisher's wife, Mary, and his children, Brittney and Bobby, were found inside their burned home. Their throats had been slit, and Mary also had been shot in the head. Notably absent was husband and father Robert Fisher, who quickly was named the lone suspect.
His wife's SUV was discovered 10 days later in the mountains near Payson, along with the family dog and Fisher's Oakland Raiders hat.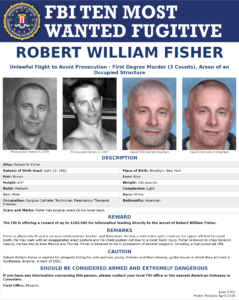 Officials searched the area's caves and woods but failed to locate any sign of Fisher.
Scottsdale investigators tapped other agencies to aid in their search, as well as spelunking and caving communities. None reported any unidentified remains or traces of Fisher.
Officials said Friday that the FBI and Scottsdale police continue to field tips regularly about Fisher sightings, some as recently as last week.
The last confirmed sighting came just after the homicides, when a tow truck driver helped pull Fisher's vehicle out of a ditch.
Tolomeo said forensic officials at FBI offices in Quantico, Va., developed the age-enhanced rendering using photos of Fisher's relatives.
Fisher's retouched face will also begin appearing on 14 different billboards around the Valley. The public also was encouraged to watch a YouTube video of Fisher walking, in hopes that someone may recognize the gait.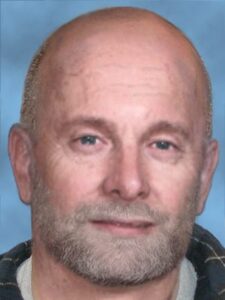 Officials dismissed the suggestion that Fisher may be dead but also declined to speculate about where he may be living.
The places where the other most-wanted suspects were ultimately caught "have surprised us all," Tolomeo said.
Fisher is wanted on three counts of first-degree murder, arson of an occupied structure and unlawful flight to avoid prosecution.
Shocking murders in metro Phoenix history
The dramatic manhunt and shock value of the murders has helped make Fisher's one of most notorious true-crime cases in the Valley.
Fisher's name has resurfaced in a number of incidents — and ultimately false alarms.
In October 2014, law enforcement officials arrested two people after acting on a tip that Fisher was at a Commerce City, Colo., home.
Officials say Fisher had skills that could prove instrumental for living off the grid. Though he was not known to speak other languages and had no police experience, he was an avid outdoorsman, a former firefighter and Navy veteran.
Fisher's life on the lam has long surpassed that of the average Ten Most Wanted fugitive.
A 2010 U.S. Department of Justice study found that more than 90 percent of those on the FBI's Ten Most Wanted list had been located since the list's inception in 1950. Many were captured, others surrendered and some fell off the list or died.
A two-decade snapshot from the same study showed that 60 percent of those added to the list from 1989 to 2009 were captured within a year. Of those, more than half were apprehended within a month of being added to the list.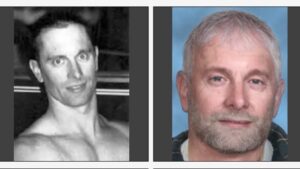 The FBI is offering a reward of up to $100,000 for information leading to Fisher.
He is about 6 feet tall with a medium build and had brown hair and blue eyes. He is described as having surgical scars on his lower back and may walk with "an exaggerated erect posture" due to a lower back injury, according to the wanted poster.
Officials said Fisher has ties to New Mexico and Florida and is believed to be in possession of several weapons.