A Michigan mother of eight disappeared three months ago after calling her kids and saying she'd be home soon — and now her blood has been found inside the charred remains of her abandoned vehicle.
The FBI said there is evidence that Heather Mae Kelley, 35, who has been missing since Dec. 10, may have been the victim of a homicide, WOOD reported.
Kelley's family has said her boyfriend is a person of interest.
The woman left her Portage home about 9 p.m. that night and called her kids around 10:20 p.m. to tell them she'd be back shortly — but never showed up.
Her burned pickup truck was discovered by her cousin the next day at North Sprinkle Road and East Michigan Avenue in Comstock Township, WOOD reported, citing the Kalamazoo County Sheriff's Office.
Investigators found hair and blood inside the vehicle. DNA tests have determined that the blood was Kelley's.
Heather Mae Kelley, 35, a Michigan mother of eight, disappeared Dec. 10 and her burned pickup truck was discovered the next day with her blood in it.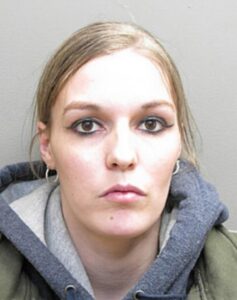 The cousin told investigators she saw a red vehicle speed off from the scene.
A sheriff's deputy had spotted Kelley's truck at the same location 16 hours earlier, before Kelley was reported missing and before it was set ablaze, according to the NBC affiliate in Grand Rapids.
He reportedly tagged the vehicle as abandoned and left it there.
Meanwhile, Kelley's 37-year-old boyfriend was arrested four days after Kelley's disappearance and remains on a federal hold until April 26.
The man — who has not been named – had been on parole, wearing a tether while finishing up a federal sentence at a halfway house in Kalamazoo Township for a 2010 drug conspiracy that included a murder-for-hire plot.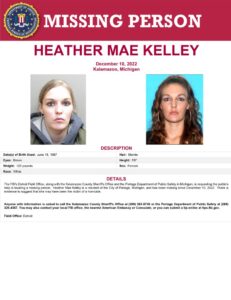 The halfway house is located a couple of miles from where the burned pickup truck was discovered.
The boyfriend ditched his tether and went AWOL from the halfway house late on Dec. 11, WOOD reported, citing records.
He had asked a federal judge for an early release, claiming he went AWOL because Kelley's relatives threatened to kill him. He wrote that one of her brothers was "even sending pictures of an AR-15 assault rifle."
The boyfriend also asked the judge for a compassionate early release, claiming he needed heart surgery, but it was rejected.
Kelley's brother denied threatening the boyfriend, WOOD reported.
Detectives used search warrants to sift through the boyfriend's phone, email and Facebook records, which revealed that he lied to detectives investigating Kelley's disappearance.
He claimed he'd last seen her when she dropped him off at the halfway house on Dec. 10, but phone records and GPS from his tether show they were at a private dinner club in Kalamazoo later that night, according to the outlet.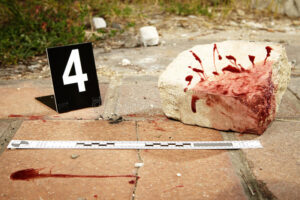 His cellphone was later turned off but was later tracked to the area near where Kelley's vehicle was found.
Detectives say the fact his phone was turned off "supports the theory that Heather Kelley has been the victim of a violent crime," court records cited by WOOD state.
The FBI, the Kalamazoo County Sheriff's Office and the Portage police are seeking the public's help in locating Kelley.
Anyone with information is asked to call the Kalamazoo County Sheriff's Office at 269-383-8748 or the Portage police at 269-329-4567.