Investigators check the truck in which dozens of dead bodies were found at the side of the highway to Vienna near Parndorf, Austria. Photo: Xinhua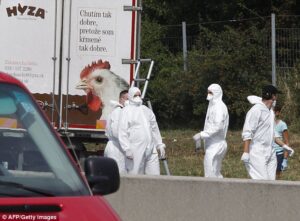 The number of migrants found dead in a lorry abandoned on a highway in Austria has risen to 71, in a case that sparked a cross-border hunt for suspected people-smugglers responsible for the tragedy.
They were believed to be those of Syrian migrants and included a toddler and three young boys, Austrian police said today.
"Among these 71 people, there were 59 men, eight women and four children including a young girl one or two years old and three boys aged eight, nine or 10," police spokesman Hans Peter Doskozil said.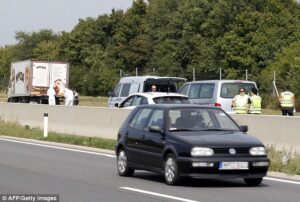 Migrants from Syria, Iraq and Afghanistan were among the victims who suffocated in the lorry in Hungary before it was found near Parndorf in Austria in 2015.
The group had made their way to the Serbian border with Hungary before being packed into the air-tight poultry lorry. Austrian police later found the bodies piled on top of each other.
Passers by who saw the truck described 'the smell of death' coming from the side of the road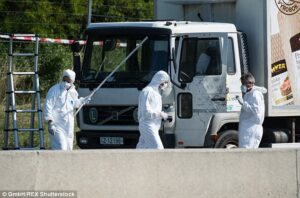 Forensic experts tried to lift fingerprints from the driver's door of the truck's cab in order to identify the gang
Hungarian officials confirmed the truck was registered to a Romanian national living in the central Hungarian city of Kecskemet. 
Austrian Chancellor Werner Faymann called for joint action across Europe following yesterday's tragedy.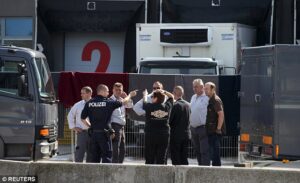 He said: 'Today refugees lost the lives they had tried to save by escaping, but lost them in the hand of traffickers.' 
Austrian Cardinal Christoph Schoenborn said a memorial Mass would be held Monday evening for the victims at Vienna's historic St Stephen's Cathedral.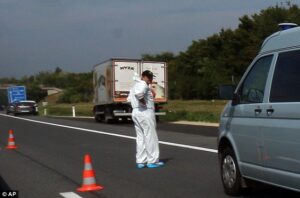 All Catholic churches in the city planned to ring their bells during the service. At the Vienna migration summit on Thursday, participants held a moment of silence and condemned the traffickers.
'Human smugglers are criminals,' said Austrian Foreign Minister Johanna Mikl-Leitner. 'Those who still think that they are gentle helpers of refugees are beyond saving.'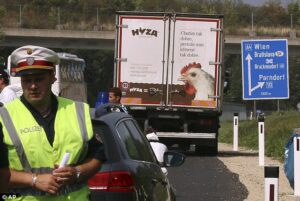 European Commissioner with responsibility for EU enlargement said: 'It will certainly be a central task to protect our outer borders better.'
He said Brussels would now look at new proposals to combat the problem.
He said: 'We will have another go at quotas. I hope that in the light of the most recent developments now there is a readiness among all the 28 (member states) to agree on this.'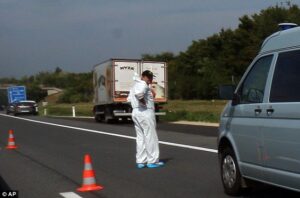 Ahead of the conference, Austria's Foreign Minister Sebastian Kurz warned that his country would consider introducing tougher anti-migration measures including 'much tighter border controls', if the EU failed to come up with a unified response.
He told public broadcaster ORF before yesterday's tragedy was uncovered: 'Austria has more migrants than Italy and Greece combined… so we shouldn't pretend that only Italy and Greece are affected.'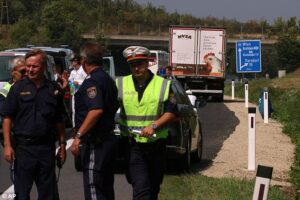 In Austria, the number of asylum requests rose above 28,300 between January and June alone – as many as for the whole of 2014 – and officials expect the total to reach 80,000 this year.
Migrants fleeing war and poverty from the Middle East, Africa and Asia are flocking to Europe by the hundreds of thousands this year.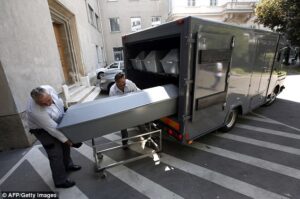 A coffin is unloaded outside a customs building in the village of Nickelsdorf, Austria.
One of those arrested was the truck owner, while two others were apparently taking turns driving
At least two of those arrested are Bulgarian citizens, while the third has Hungarian identity papers, police said.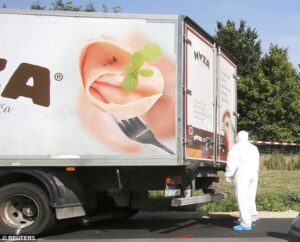 Police said the truck was registered to a Romanian national with an address in Kecskemet, central Hungary
A major operation has been launched to hunt down the people smuggling gang responsible for the deaths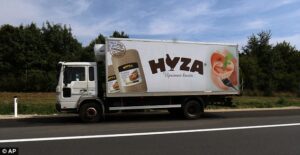 The truck, pictured, was abandoned on the side of the A4 on the road to the capital Vienna near Parndorf
Obce the truck is removed to a secure location, it will undergo a very detailed forensic examination
Many follow the Balkans route, from Turkey to Greece by sea, up north to Macedonia by bus or foot, by train through Serbia and then walking the last few miles into EU member Hungary.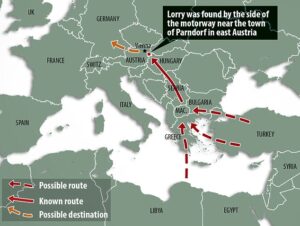 That avoids the more dangerous Mediterranean Sea route from North Africa to Italy, where the bodies of 51 other migrants were found Wednesday in the hull of a smugglers' boat rescued off Libya's northern coast.
Once inside the 28-nation EU, most migrants seek to reach richer nations such as Germany, The Netherlands, Austria or Sweden.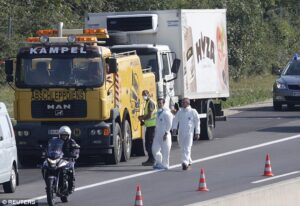 Hungarian police said they detained 3,241 migrants on Wednesday, over 700 more than a day earlier and the highest number so far this year.
The Hungarian government is quickly finishing a razor-wire border fence to keep the migrants from crossing in from Serbia.
Amnesty International alleged that EU indecisiveness was partly to blame for the latest migrant tragedy.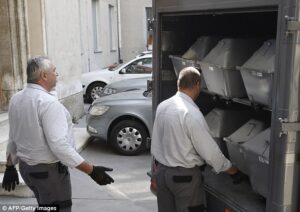 'People dying in their dozens – whether crammed into a truck or a ship – en route to seek safety or better lives is a tragic indictment of Europe's failures to provide alternative routes,' the rights group said a statement.
'Europe has to step up and provide protection to more, share responsibility better and show solidarity to other countries and to those most in need.'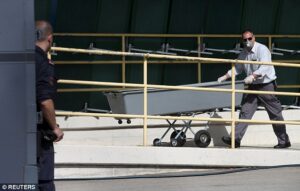 One is the truck owner, a Bulgarian of Lebanese descent, while two others were apparently taking turns driving, said Hans Peter Doskozil, chief of police in Burgenland province, where the truck was found.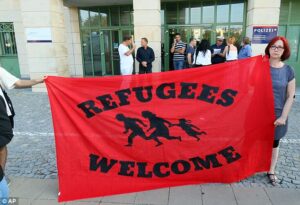 The deaths in August 2015 led Germany's Angela Merkel to say she would open the country's borders to refugees, eventually allowing in more than one million people.