A drunk man allegedly slaughtered five people – including an 8-year-old boy — in their southeast Texas home after one of them asked him to stop shooting his rifle outside because a baby was trying to sleep, authorities said Saturday.
San Jacinto County Sheriff Greg Capers identified the killer as a Mexican national, and his victims — who were all shot in the head, execution-style — as Hondurans.
The bloodshed took place in Cleveland, Tex., just 45 miles outside Houston, police said.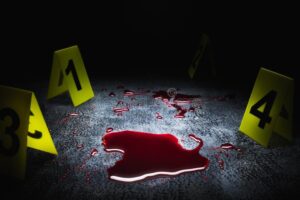 The suspect, Francisco Oropeza, 38, went on his shooting spree just before midnight Saturday, after one of his next-door neighbors and alleged victims asked him to stop firing his rifle because a baby was inside the house asleep, Capers said.
"These people stepped out to ask him to quiet down, and he took offense to that and walked into their house and basically executed them," Capers told The Post.
A total of 10 people were inside the home at the time of the shooting.
The victims ranged in age from 8 to 40 years old.
Five of the residents survived, including three children.
Witnesses told authorities Oropeza had been guzzling booze and shooting rounds in his backyard.
His immigration status remained unknown Saturday.
The suspect, Francisco Oropeza, 39, went on his shooting spree just before midnight Saturday, according to police.San Jacinto County Sheriff's Office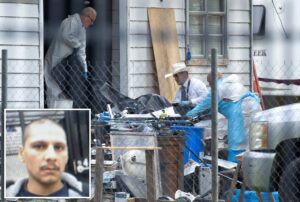 One victim was found by the doorway leading into the living room. Another was found dead in the living room. Two more women were found shot dead upstairs, their bodies shielding young children who survived and were taken to a hospital, Fox News Digital reported.
Three other victims were injured and taken to the hospital "covered in blood," according to the Sheriff's office. It wasn't immediately clear if the blood belonged to them or the other victims.
Five people — including an 8-year-old — were shot dead with an AR-15-style rifle.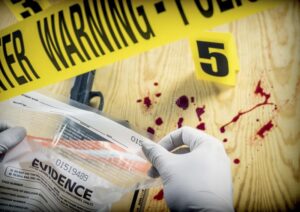 "This is the most horrific scene I've worked, and I've been in law enforcement for 41 years," Capers told The Post.
Oropeza fled, but by around noon Saturday, police said they had him pinned inside a wooded area a little over a mile away from the crime scene, adding they were hopeful he'd soon be in custody.
Authorities believe they found the murder weapon at the crime scene but also uncovered another rifle, shotgun, and pistol belonging to Oropeza at his home. It's unclear if he was armed when he fled.
One victim was found by the doorway leading into the living room.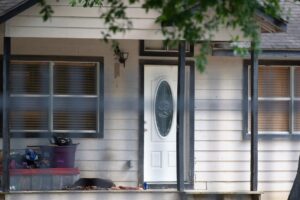 A team of dogs, officers on horseback, and an aerial drone were sent by the Texas Department of Corrections to assist with Oropeza's arrest.
The FBI said Saturday it was also assisting in the manhunt.
Capers' office was first dispatched to the victims' Walters Road home in response to a harassment complaint. As his deputies headed to the scene, the office received numerous calls about a shooter firing multiple shots at the address.
When authorities arrived they found four victims – three women and a man — shot dead in the home.
The 8-year-old boy died later at a local hospital.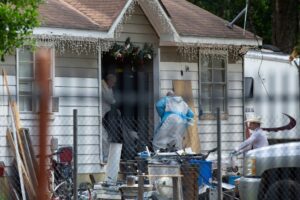 Police found shell casings in Oropeza's yard.
Vianey Balderas, who lives across the street from the victims, told the Washington Post she first heard some gunshots when a few people were outside. Roughly 20 minutes later, she heard about five more shots, then 10 more.
"When I heard those gunshots, I didn't think anything of it because in this neighborhood everyone has guns," she told the news outlet during an interview in Spanish.
"Every weekend you hear gunshots. People shoot in their backyards, after they drink alcohol, men take out guns at house parties and shoot the ground."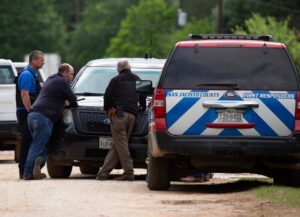 Balderas, 27, said she heard a truck pulling away minutes later. Then she saw the father of the children outside, begging for someone to call an ambulance.
Capers said the victims had just moved to the small town of Cleveland from Houston three- to five days earlier. Many didn't have identification, he said, making them difficult to identify.
The five survivors are now staying with relatives in nearby Pasadena, Texas.
Authorities have issued an arrest warrant for Oropeza, and a judge assigned a $5 million bond, according to Capers' office.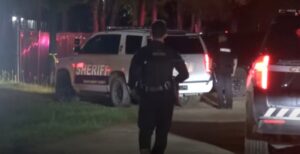 He faces five counts of murder.
Residents in and around the Cleveland, Tex., area were told by police to stay inside and stay clear of the crime scene until the investigation has concluded.
The mass murder has renewed calls for a federal ban on AR-15 style weapons. President Biden called on Congress to back a ban on assault weapons after a shooter armed with an AR-15 style weapon killed three 9-year-olds and three staffers at a Nashville school last month.
There's been 19 shootings in the U.S. this year where at least four people were killed, not including the shooter, according to the Gun Violence Archive.