The suspected shooter, identified as Salvador Ramos, allegedly shot his grandmother before heading to Robb Elementary School in Uvalde with a possible handgun and rifle, according to Gov. Greg Abbott.
A teenage gunman opened fire in a south Texas primary school, killing at least 19 children and two teachers before he was also killed, prompting an emotional US President Joe Biden to demand action on US gun laws.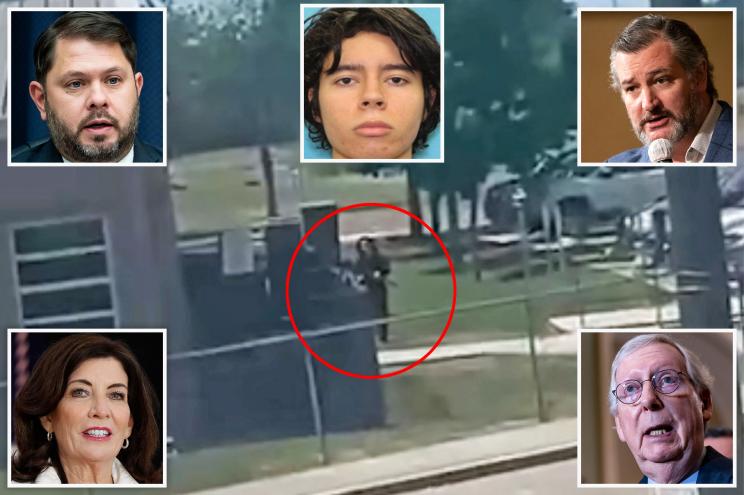 After conflicting early accounts of the death toll at the school in Uvalde, Texas, public safety officials said 19 schoolchildren and two teachers had died in the Robb Elementary School massacre on Tuesday (Wednesday AEST), the latest in a bout of gun-fuelled mass killings in the US and the nation's worst school shooting in nearly a decade.
A family grieves outside of the civic centre following the mass shooting at Robb Elementary School.CREDIT:GETTY
The carnage began with 18-year-old suspect Salvador Ramos shooting his grandmother, who survived, authorities said. She remained in hospital in a critical condition, CNN reported.
Ramos fled that scene and crashed his car near the school, which is in a town about 130 kilometres west of San Antonio. There he launched a bloody rampage with two military-style rifles he had bought on his birthday that ended when he was killed, apparently shot by police.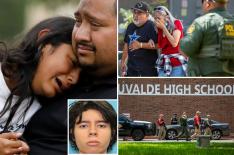 A resident who heard the crash called 911, and two local police officers exchanged gunfire with the shooter.
The officers saw the gunman, clad in body armour, emerge from the crashed vehicle carrying a rifle and "engaged" the suspect, who nevertheless managed to charge into the building and open fire, Texas Department of Public Safety (DPS) Sergeant Erick Estrada said on CNN.https://imasdk.googleapis.com/js/core/bridge3.517.2_en.html#goog_145093066Play Video
US President Joe Biden has called for action after a shooting at a Texas primary school killed at least 18 children and three adults.
Both officers were shot, though it was not immediately clear where on the campus that confrontation occurred, or how much time elapsed before more authorities arrived on the scene.
Texas Governor Greg Abbott said the two officer's injuries were not serious.
Meanwhile, teams of Border Patrol agents raced to the school, including 10 to 15 members of a SWAT-like tactical and counter-terrorism unit, said Jason Owens, a top regional official with the Border Patrol.
One Border Patrol agent who was working nearby when the shooting began rushed into the school without waiting for backup and shot and killed the gunman, who was behind a barricade, according to a law enforcement official speaking on condition of anonymity because he was not authorised to talk about it.
The agent was wounded but able to walk out of the school, the law enforcement source said.
Owens confirmed that an agent suffered minor injuries, but would not provide details of that confrontation.
The school's student body consists of children in the second, third and fourth grades, according to Pete Arredondo, chief of the Uvalde Consolidated Independent School District Police Department. Students in those grades would probably have ranged in age from seven to 10 years old. The school has about 600 students across years 2, 3 and 4, authorities said.
Families wait for word on children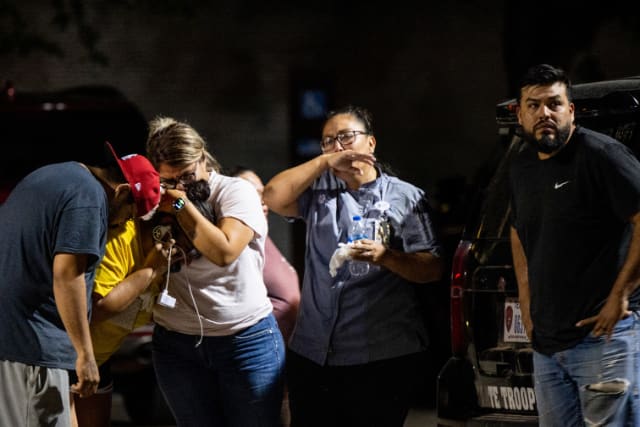 Hours after the attack, families were still awaiting word on their children.
By nightfall, names of those killed during Tuesday's attack began to emerge. On social media, pictures of smiling children were posted, their families begging for information.
Victims: Uziyah Garcia, Xavier Lope, fourth-grade teacher Eva Mireles, and Amerie Jo Garza.
Outside the town civic centre, where families were told to gather, the silence was broken repeatedly by screams and wailing. "No! Please, no!" one man yelled as he embraced another man.
A group of about 40 family members was led out at around 11.30pm on Tuesday. Some broke down in the parking lot, wailing and clinging to one another as police escorted people to their cars.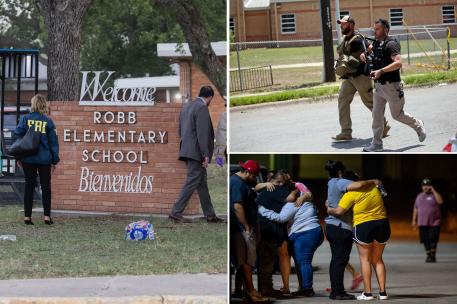 One man at the civic centre walked away sobbing into his phone "she is gone." On the backside of the building, a woman stood by herself, alternately crying and yelling into her phone, shaking her fist and stamping her feet.
Manny Renfro said he got word that his grandson, 8-year-old Uziyah Garcia, was among those killed.
"The sweetest little boy that I've ever known," Renfro said. "I'm not just saying that because he was my grandkid."
Renfro said Uziyah last visited him in San Angelo during spring break.
"We started throwing the football together and I was teaching him pass patterns. Such a fast little boy and he could catch a ball so good," Renfro said. "There were certain plays that I would call that he would remember and he would do it exactly like we practiced."
"My heart is broken today," said Hal Harrell, the school district superintendent. "We're a small community, and we're going to need your prayers to get through this."
Federico Torres was waiting for news about his 10-year-old son Rogelio. He told KHOU-TV that he was at work when he learned about the shooting and rushed to the school.
"They sent us to the hospital, to the civic centre, to the hospital and here again, nothing, not even in San Antonio," Torres said. "They don't tell us anything, only a photo, wait, hope that everything is well."
Torres said he was praying that "my son is found safe … Please if you know anything, let us know."
PJ Talavera, who runs a martial arts school in town, said his wife's niece was among the children killed.
Talavera said the town was in a state of "controlled chaos" in the moments just after the shooting, as false rumours spread of other shooters attacking different schools.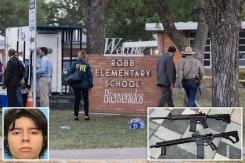 "It's surreal. It's unbelievable. There is a hollow emptiness inside," Talavera said.
Adolfo Cruz, a 69-year-old air conditioning repairman, was still outside the school as the sun set, seeking word on his 10-year-old great-granddaughter, Elijah Cruz Torres.
He drove to the scene after receiving a terrifying call from his daughter shortly after the first reports of the shooting. He said other relatives were at the hospital and the civic centre.
Waiting, he said, was the heaviest moment of his life.
"I hope she is alive," Cruz said.
Classes were winding down for the year and each school day had a theme. Tuesday's was Footloose and Fancy. Students were supposed to wear a nice outfit with fun or fancy shoes.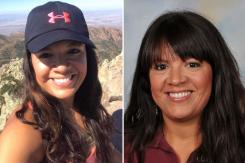 Fourth-grade teacher Eva Mireles was among the adults killed in the attack and was remembered as a loving mother and wife.
"She was adventurous. I would definitely say those wonderful things about her. She is definitely going to be very missed," said 44-year-old relative Amber Ybarra, of San Antonio.
Ybarra was preparing to give blood for the wounded and was pondering how no one was able to spot possible problems in the shooter in time to stop him.
President reacts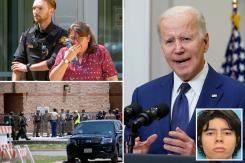 Biden, recently returned from his trip to Asia, delivered a statement in the White
House in which he could hardly contain his anger over an epidemic of massacres in America.
"As a nation, we have to ask: When in God's name are we going to stand up to the gun lobby? When in God's name are we going to do what we know in our gut needs to be done?"
"We have to act," he said and suggested reinstating the assault weapons ban and other "common-sense gun laws".
"I hoped when I became president I would not have to do this, again", Biden said, decrying the death of "beautiful, innocent" young children in "another massacre".
"[Their parents] will never see their child again, never have them jump in bed and cuddle with them," he said.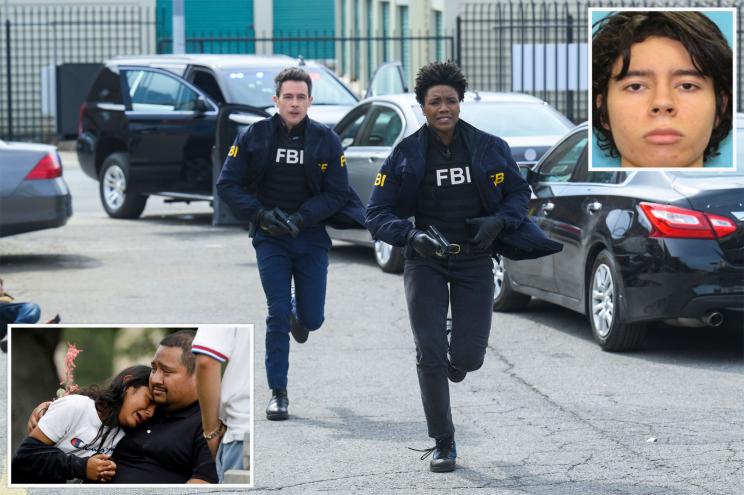 Before his trip to Asia, Biden had visited the scene of a massacre in Buffalo, New York that had claimed the lives of 10 black people.
He also reflected on the realisation that, unlike the US, other countries didn't have these kinds of routine massacres.
Biden ordered US flags be flown at half-mast at the White House and other public buildings "as a mark of respect for the victims".
It was not immediately clear how many people were wounded, but Uvalde Police Chief Pete Arredondo said there were "several injuries". Earlier, Uvalde Memorial Hospital said 13 children were taken there.
University Hospital in San Antonio said on Twitter that it had received two patients from the shooting – a 66-year-old woman and a 10-year-old girl, both listed in critical condition.
Ramos had hinted on social media that an attack could be coming, according to state Senator Roland Gutierrez, who said he had been briefed by state police. He noted that the gunman "suggested the kids should watch out".
CNN reported that an Instagram account tied to Ramos showed an image of two AR15 assault rifles.
Uvalde, home to about 16,000 people, is about 135 kilometres west of San Antonio and 110 kilometres from the Mexican border. Robb Elementary is in a mostly residential neighbourhood of modest homes.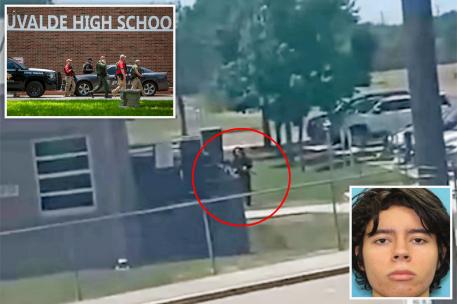 There was a heavy police presence around the school on Tuesday afternoon, with officers in heavy vests diverting traffic and FBI agents coming and going from the building. What appeared to be a refrigerated mobile morgue was parked near the scene, local media reported.
Earlier, the district had said that all its schools were locked down because of gunshots in the area.
The South Texas Blood & Tissue Centre announced it was holding an emergency blood drive in Uvalde.
Hillcrest Memorial Funeral Home, which is located across the street from Robb Elementary School, said in a Facebook post that it would be assisting families of the shooting victims with no cost for funerals.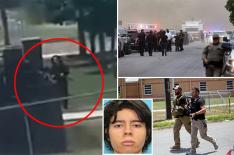 Mass shootings
The shooting in Texas came less than two weeks after a gunman opened fire at a supermarket in Buffalo, New York, killing 10 black shoppers and workers in what officials have described as a hate crime.
The shooting in Texas was one of the deadliest at a US school since a gunman killed 26 people, including 20 children from five- to 10-years old, in a rampage at Sandy Hook Elementary School in Connecticut in December 2012.
In 2018, a former student at Marjory Stoneman Douglas High School in Parkland, Florida, killed 17 students and educators.
The Uvalde shooting was the deadliest school shooting in Texas history. It occurred four years after a gunman fatally shot 10 people at Santa Fe High School in the Houston area.
'Active shooter' incidents in the United States

The FBI defines an active shooter as 'one or more individuals actively engaged in killing or attempting to kill people in a populated area.'
The US experienced 61 "active shooter" incidents last year, up sharply in the sheer number of attacks, casualties and geographic distribution from 2020 and the highest tally in more than 20 years, the FBI reported on Monday.
The 2021 total, spread over 30 states, was 52 per cent higher than 2020 and about double each of the three previous years, the FBI said.
RELATED ARTICLE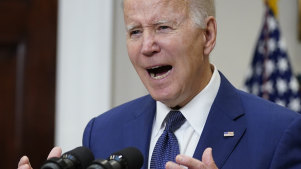 Analysis
The agency defines an active shooter as
University Hospital in San Antonio said on
The agency defines an active shooter as someone engaged in killing or attempting to kill people in a public space in seemingly random fashion.
Commercial businesses accounted for just over half of all such incidents last year, which was also notable for an emerging trend of "roving active shooters" opening fire in multiple locations, as was the case with a gunman who attacked several Atlanta-area day spas, the FBI said.
Last year's active-shooter carnage left 103 people dead and 140 wounded, the report said.
By contrast, the FBI counted 40 active-shooter attacks in 19 states that killed 38 people and wounded 126 in 2020, a year that coincided with the height of restrictions on social and economic life due to the coronavirus pandemic.
Gun rights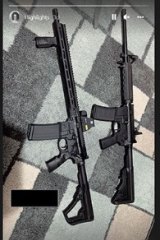 The shooting came days before the National Rifle Association annual convention was set to begin in Houston. Texas governor Abbott and both of the state's US senators were among elected Republican officials scheduled to speak at a leadership forum sponsored by the NRA's lobbying arm this Friday.
Abbott has campaigned on gun rights.
In 2015, he wrote on Twitter that he was "embarrassed" that Texas had fallen behind California in gun sales. "Let's pick up the pace Texans," he said.
Senator Chris Murphy, from the state of Connecticut where the 2012 Sandy Hook shooting took place, made an impassioned speech on the Senate floor immediately after the Texas shooting.
"There are more mass shootings than days in the year," he said. "Our kids are living in fear every time they set foot in a classroom because they think they're going to be next … What are we doing?
"Why do you spend all this time running for Senate, if your answer as this slaughter increases and our kids run for their lives, [is] we do nothing?
"What are you doing? Why are we here?"
AP, Reuters with staff