Northern Territory police face questions as to how 45-year-old Ben Hoffmann had been given the time and space to allegedly kill four men and badly wound a woman in one of Australia's worst killing sprees since Port Arthur.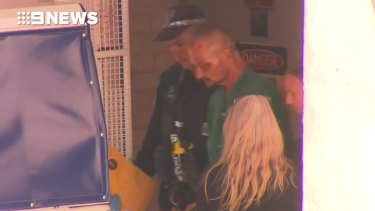 Hoffmann, a parolee with a history of violence, strapped with an electronic monitoring bracelet, slipped through Darwin's quiet streets on the alleged killing spree unburdened by police for close to an hour.
Video footage shows a man understood to be alleged murderer Ben Hoffmann arriving at the scene where Rob Courtney was killed.
CCTV from Jolly Street, Woolner, Darwin show images of a man believed to be accused gunman Ben Hoffmann after he was allegedly stabbed by security guard Rob "Kiwi Bob" Courtney.
The final act of one of the four men killed in Tuesday's mass shooting in Darwin may have saved others from the same fate.
It was revealed on Thursday that slain New Zealand national Rob "Kiwi Bob" Courtney, 52, stabbed alleged murderer Ben Hoffmann at least twice before his own life was ended.
Hassan Baydoun above was killed at the Palms Motel during a mass shooting in Darwin
Darwin shooting victim Michael Sisois above.
A family member confirmed Michael Sisois, 57, was the man killed outside the Buff Club, a popular watering hole on the Stuart Highway, on Tuesday night.
It's believed that Mr Hoffmann had organised to meet Mr Sisois, with whom he had worked as a roofer, at the club car park on Tuesday night.
Mr Courtney, a security guard at the Mindil Beach Casino, was the last man allegedly killed by Mr Hoffmann in a killing spree that lasted close to an hour before the accused gave himself up.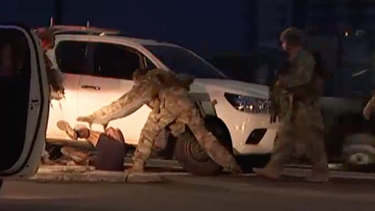 He comes from a respected Darwin family. His brother is highly successful and much-loved in the city's business and social circles. But Ben Hoffmann's life, regardless of his guilt or innocence in this matter, went terribly wrong.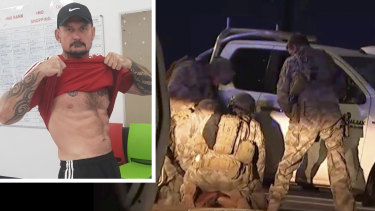 Ben Hoffmann, left, and the arrest scene in Darwin.
A former friend of Hoffmann said he was "normal" until 15 or 16 years ago, but as his mates settled down he veered off into a life of violence and drugs.
He has been in and out of jail much of his adult life.
Hoffmann had breached his parole conditions just a month before the shootings, and was released from 14 days in jail at the start of May.
Mr Kershaw said he had regular drug and alcohol testing as part of his parole, and was last tested on  May 21.
Some of the attacks on Tuesday evening appear random, though the accused had visited specific addresses in Darwin's inner north and was heard shouting for a man named Alex, who it later emerged had been interstate the whole time.
The first blasts of Hoffmann's pump-action shotgun came just before 6pm from the Palms Motel, an nondescript establishment just outside the city centre, where 33-year-old taxi driver and IT graduate Hassan Baydoun had just stopped for what would be his final meal.
Then to Jolly Street in the semi-industrial neighbourhood of Woolner, another man – a 52-year-old casino security guard named Rob Courtney – left dead.
Recycling worker Johnny Reid described to the NT News the moment the killer burst in the door and blasted four rounds into his friend.
"He busted in and looked right at me," Mr Reid said.
"I looked at him and thought: 'f—, this is it'.
"I thought I was dead for sure.
"I asked him what he was doing but he went right past me and shot my mate."
A policewoman stands guard outside the Palms Motel in Darwin.Credit:Glenn Campbell
People near the property at the time of the attack say Mr Courtney may have been alive after the attack and have accused police of failing to go to his aide.
"None of them even bothered to go into that bloody house," Mr Reid said. "They were all standing around, and they all walked up and were standing at the gate with their torches. Then (a friend) piped up: 'Just bloody well go in there'."
Photo: Police on duty at a crime scene at Gardens Hill Crescent, where a man was shot and killed. (ABC News: Matt Garrick)
Another man named Peter, who did not want to provide his last name, said it was at least an hour and a half before police went inside the home.
Henry Sapiecha